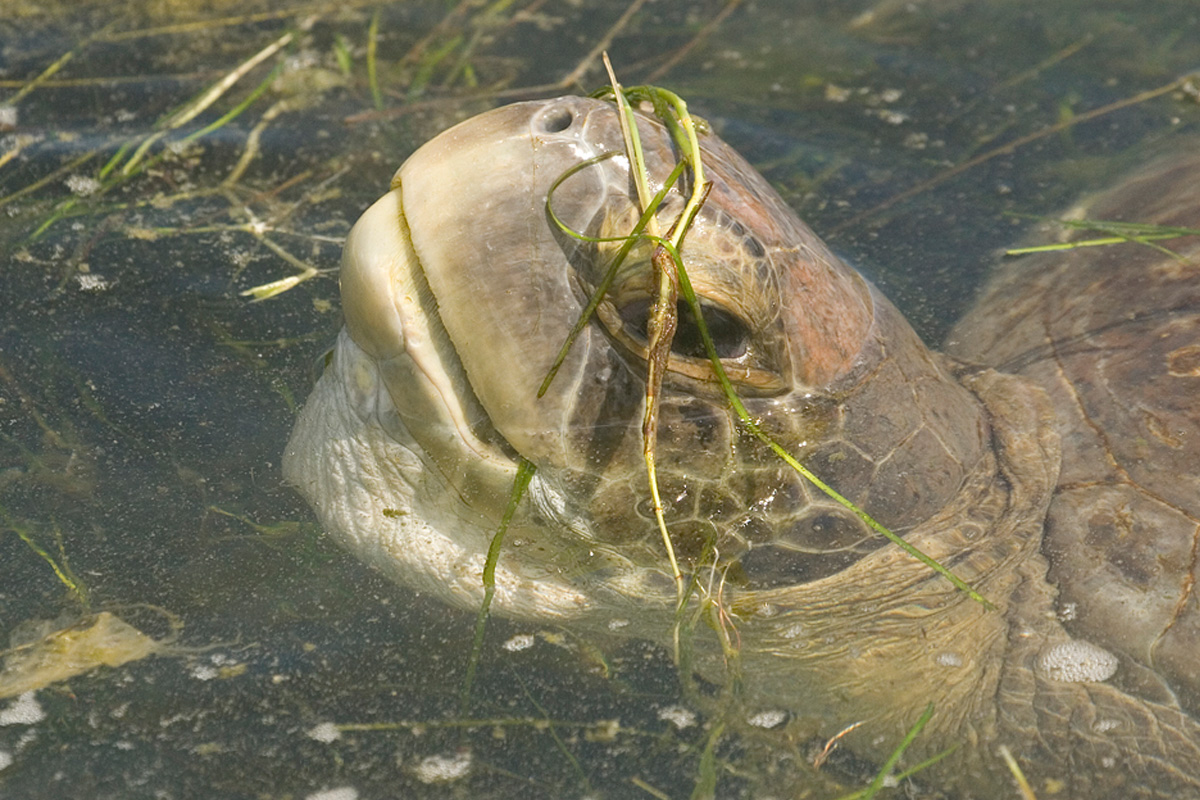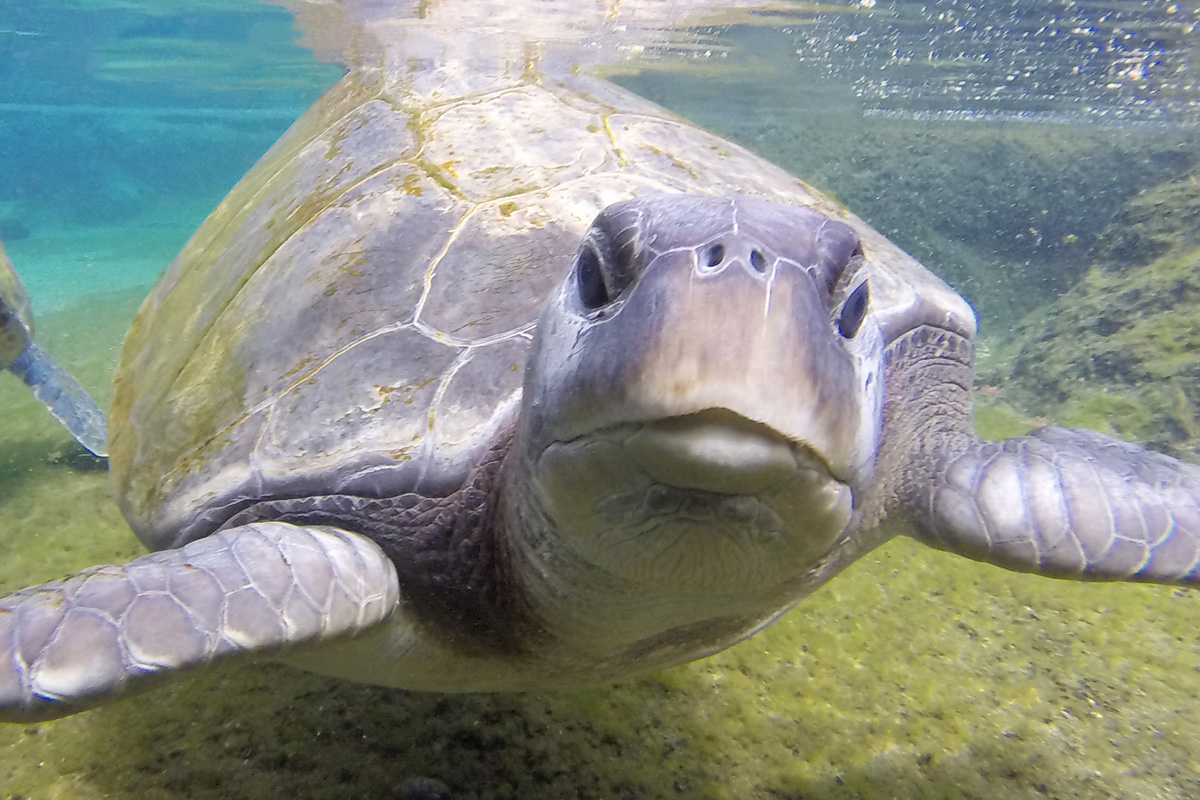 Turt, a sub-adult green sea turtle, was found floating in the intake canal of the Nuclear Power Plant in Fort Pierce in 2009. Unfortunately, that wasn't the first time help was needed. Turt was found with an internal pit tag that told a story of at least four other occurrences when humans had to step in to provide aid. Concerned by the number of times the turtle had been scanned, the rescuers transported this frequent flyer to Loggerhead Marinelife Turtle Hospital in Juno Beach for medical insight.
After undergoing a series of tests at the hospital, Turt was diagnosed with spastic peristalsis of the large intestines, meaning lifelong medication would be needed to control buoyancy. Since the medicine was to be administered every other day, Turt needed to be transferred to a non-releasable facility for permanent care. 
Turt arrived at Florida Oceanographic on July 23, 2010, becoming the first sea turtle to call the Game Fish Lagoon home. For feeding and medicine dispersal, Turt is operant trained to respond to a blue circular target. Turt also enjoys leafy greens donated by Publix or can be found foraging on the algae growth in the Lagoon. Although a testosterone test was conducted in 2014 showing male range levels, Turt has yet to show any external signs of maturity, so gender is not confirmed. One of Turt's favorite past times is basking in the sun. Often scaring our visitors as this leaves its head and top of carapace out of the water giving a dried/ hazy look.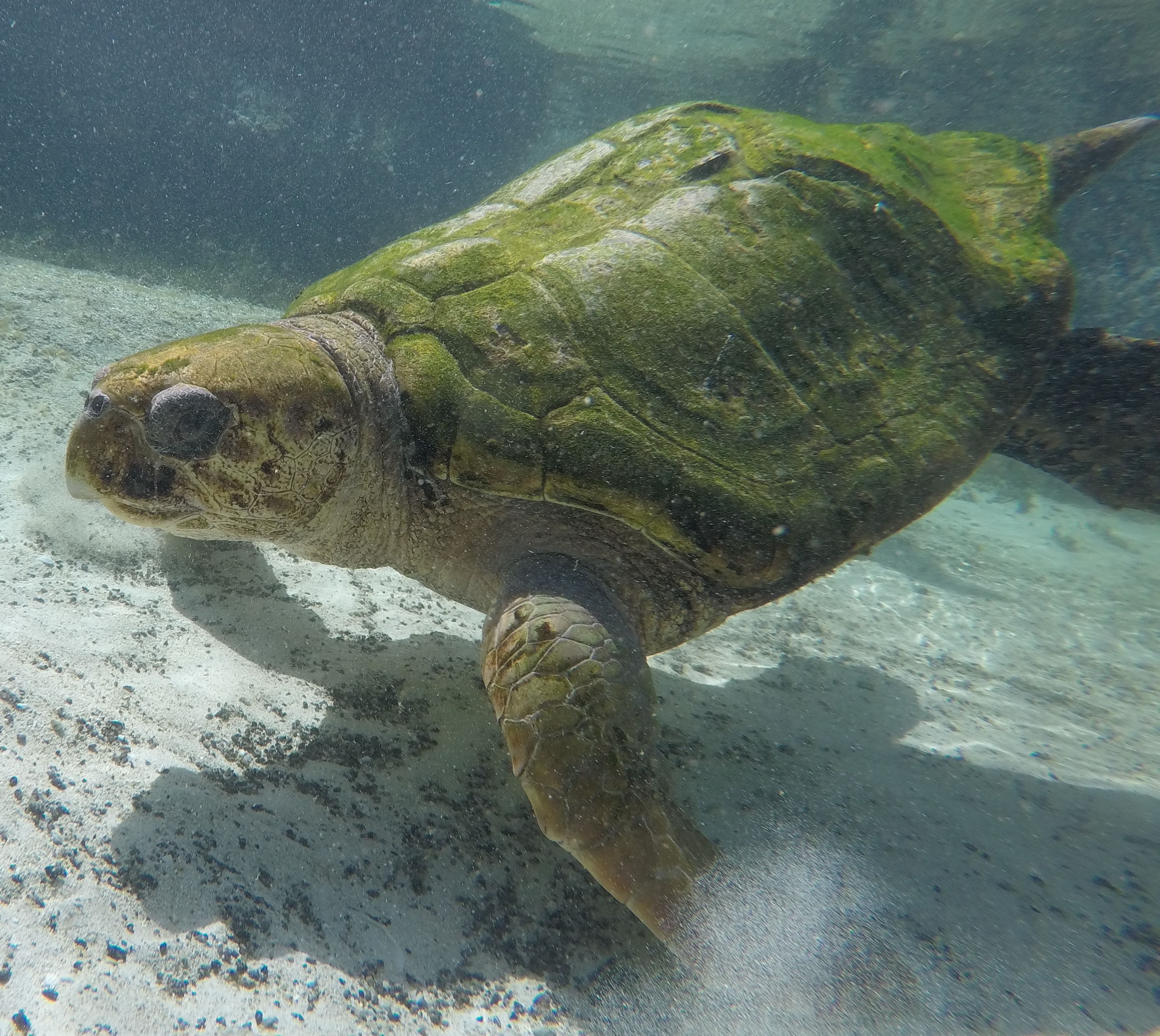 Lily, our adult loggerhead sea turtle, was originally found in 2008 floating off the coast of No Name Key. After being taken to Marathon Turtle Hospital, it was evident by the deep scars in his carapace that Lily was the victim of a past boat strike. During 2 years of rehab, the doctors determined that the damage affected his ability to control buoyancy so Lily would need to be fitted with weights and sent to a non-releasable facility for permanent care. On December 6, 2010, Lily was transferred to Florida Oceanographic to call the 750,000-gallon Game Fish Lagoon home. Lily needed to be the only Loggerhead as he was known to not play well with others of his species! 
When Lily first arrived, gender was not yet determined. However, over the years, Lily has grown both in weight (almost 300lbs) and tail length. This long tail is a sign of a mature male. So Lily with the pretty eyes and feminine name is in fact male and a great teaching tool for explaining the life cycle of sea turtles.
Lily is our largest resident and only loggerhead. Like the others, he is operant trained for feeding and responses to a triangular orange target. To offset his buoyancy issue, there are occasionally stainless steel bolts epoxied to the back of his carapace. These weights are changed often to prevent long term damage to scute shedding and growth.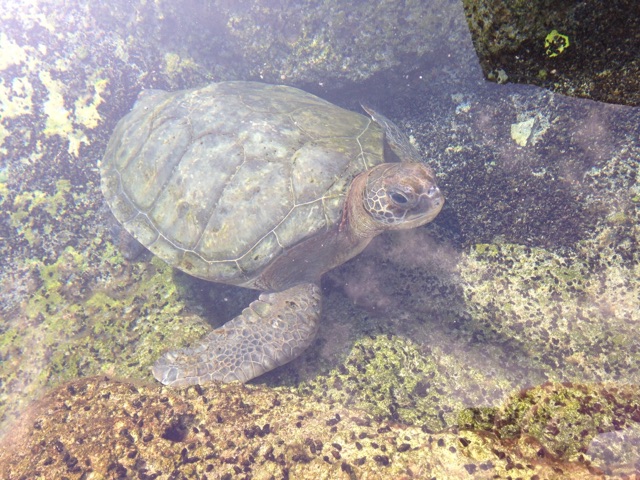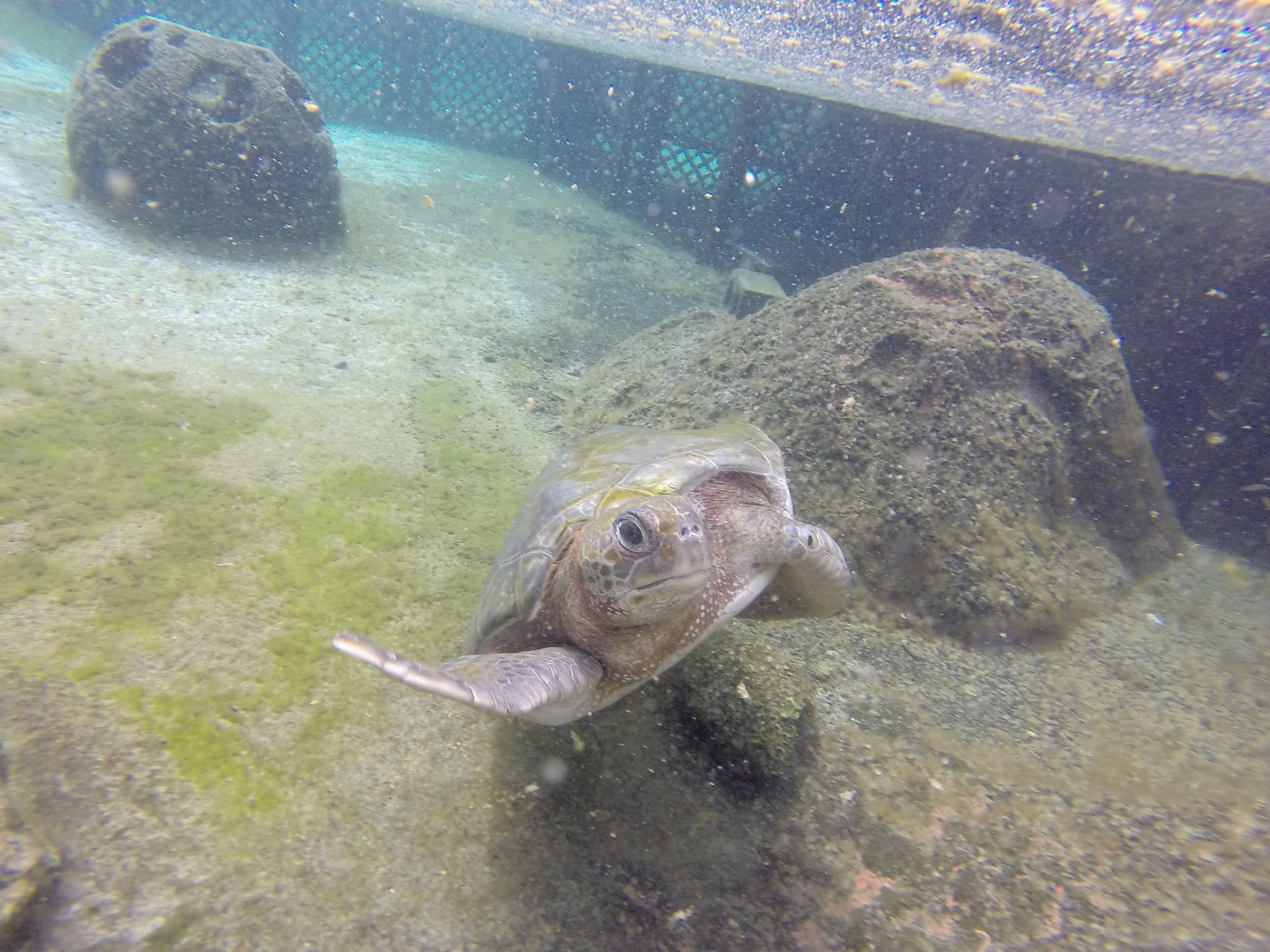 Hank is a sub-adult green sea turtle that was found in March 2010 cold-stunned, lethargic, and covered in barnacles. Hank was taken to Mote Marine Laboratory in Sarasota where it was determined that there was a buoyancy issue that would require long term non-releasable care. So in November 2010, Hank was transferred to Florida Oceanographic to reside with the other turtles in the Game Fish Lagoon. 
Hank, who is slightly over 100 lbs, can be found foraging on algae that grows naturally in the tank. During feeding sessions, Hank practices operant training with a green square target. As the turtle is not yet physically mature, no gender is confirmed.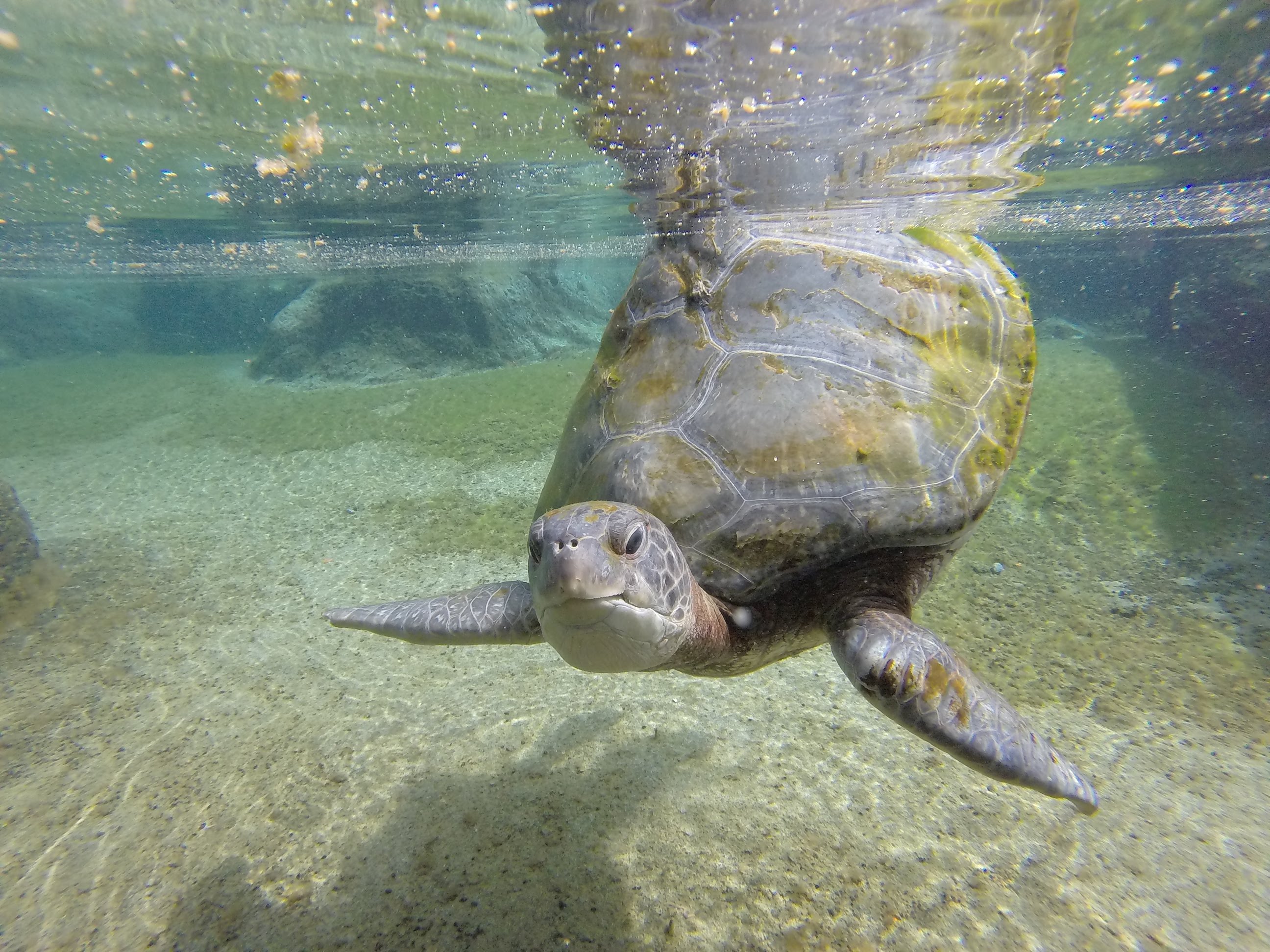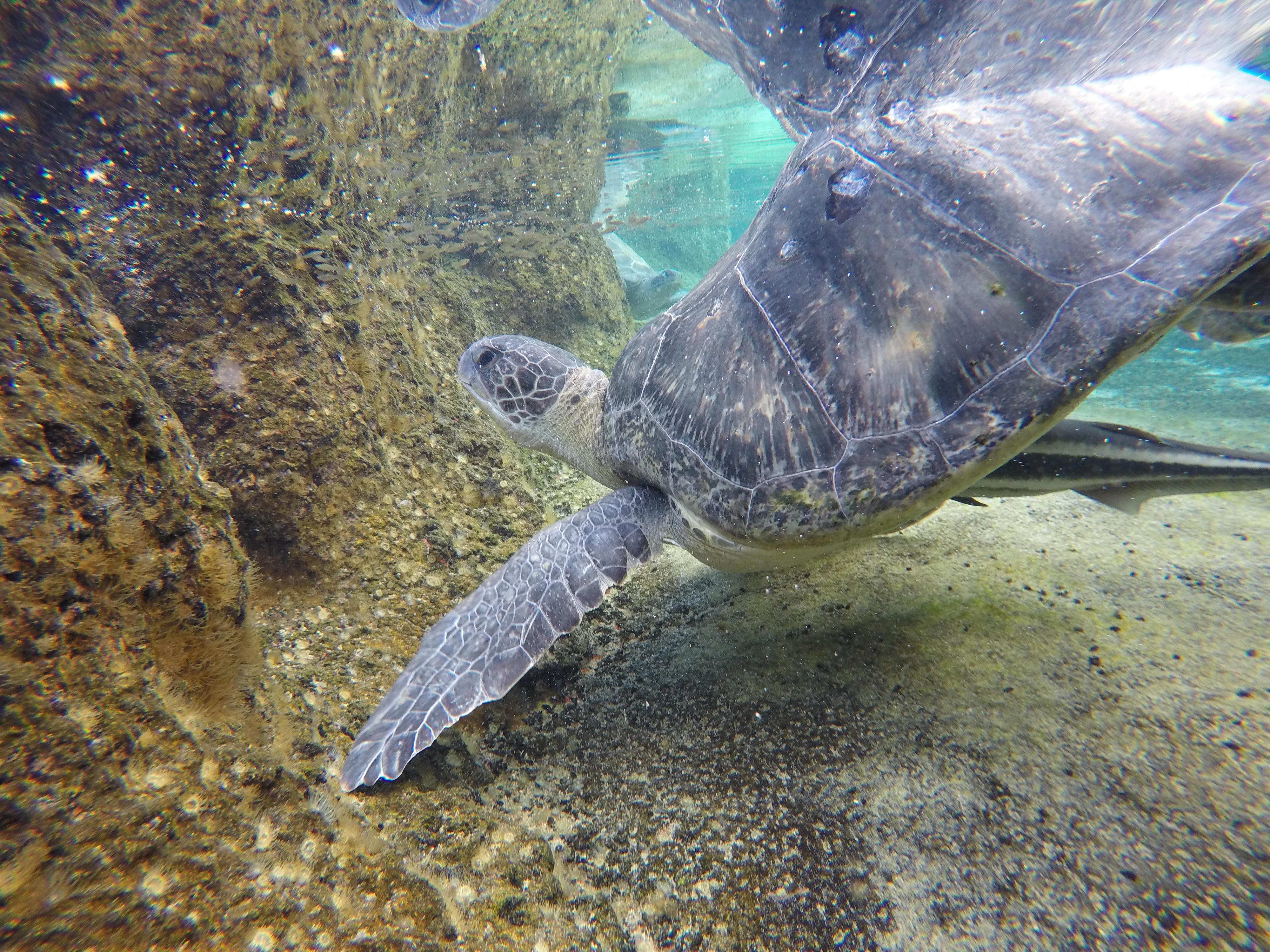 Anna Belle is an adult male green sea turtle that was transferred to Florida Oceanographic on July 25, 2012, from Loggerhead Marinelife Center, where he had undergone rehabilitation since December 2011. 
Anna Belle, like the other residents, has a buoyancy problem, and unfortunately this has caused a large deformity of his carapace and plastron. Therefore, Anna Belle can be found easily in the exhibit as his hump is noticeable when he relaxes at the surface. Anna Belle also takes medication every other day to help with intestinal issues.
During the day, Anna Belle can be found resting or foraging on the algae growth in the tank. He loves to join in on the Gamefish Lagoon fish feeding program. During operant training sessions, he responds to a purple square target to receive a diet of fish and squid. Anna Belle is physically mature and as such has confirmed his male gender with a long tail.