Florida Oceanographic Society's Citizen Science
Water Quality Monitoring Program
Established in 1998, the Florida Oceanographic Society's Citizen Science Water Quality Monitoring Program assesses the trends and changes in water quality throughout the St. Lucie Estuary and the southern Indian River Lagoon. Our volunteer citizen scientists monitor water quality at assigned sites weekly, measuring water temperature, salinity, dissolved oxygen, pH, and water clarity. Our program's primary goal is to provide long-term data that covers both seasonal and temporal trends in our local estuaries. This program allows us to assess impacts on water quality, including the effects of freshwater discharges and stormwater runoff.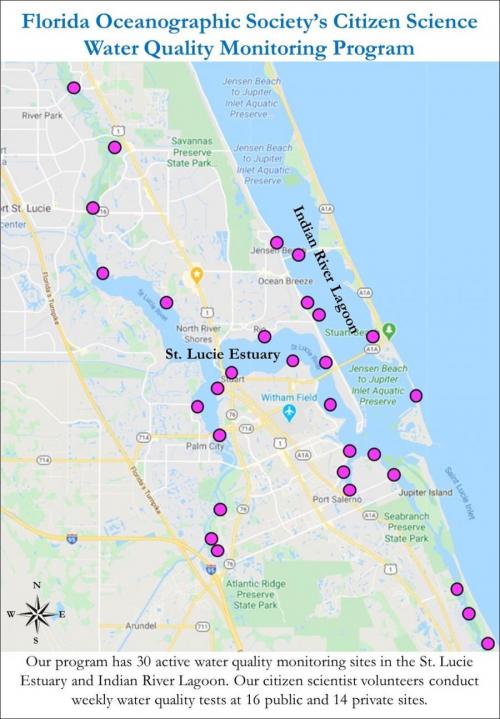 The Florida Oceanographic Society produces a weekly water quality report based on the data collected by our volunteers for the St. Lucie Estuary and southern Indian River Lagoon. 
Click on a year below to access our weekly water quality reports. For water quality reports from 2017 or earlier, please email info@floridaocean.org.
Thank you for your interest in our water quality monitoring program! Help us conduct weekly water quality tests to monitor the health of the Indian River Lagoon by submitting the forms below.
Click HERE to learn about volunteering with FOS and complete our volunteer application form.
Click HERE to fill out a brief questionnaire to help us determine if our water quality program is a good fit for both of us. Please email the completed form to the Volunteer Coordinator, Rosemary Badger, at rbadger@floridaocean.org.
Please enter your data through the links below. Thank you! 
For any questions, please contact the Water Quality Program Coordinator, Dr. Kathryn Tiling, at ktiling@floridaocean.org