2024 Legislative Priorities
Read our list of Legislative Priorities for 2024 to understand the issues affecting our environment and how we can advocate to restore our coastal ecosystems. 
2023 State Legislative Wrap-Up
Florida's Legislative Session came and went as quickly as our recent afternoon thunderstorms. Environmentally speaking, the bills ranged from mildly positive to severely detrimental, and just as our weather forecasts, the future remains uncertain. Read our in-depth look at the good, bad, and the unheard bills from the 2023 Florida Legislative Session.
Read our 2023 State Legislative Wrap-Up
White Paper: Big Agriculture Devastating Florida's Water Quality
The Stormwater Treatment Areas (STAs) are being filled with polluted water by private agricultural basin runoff, leaving them too full to filter water flowing from Lake Okeechobee. This mismanagement of water capacity must come to an end. Read the PDF version of our white paper or view the presentation below by clicking the image below.
2023 Legislative Priorities
We will be advocating for these issues in the upcoming state legislative session and we hope you will too.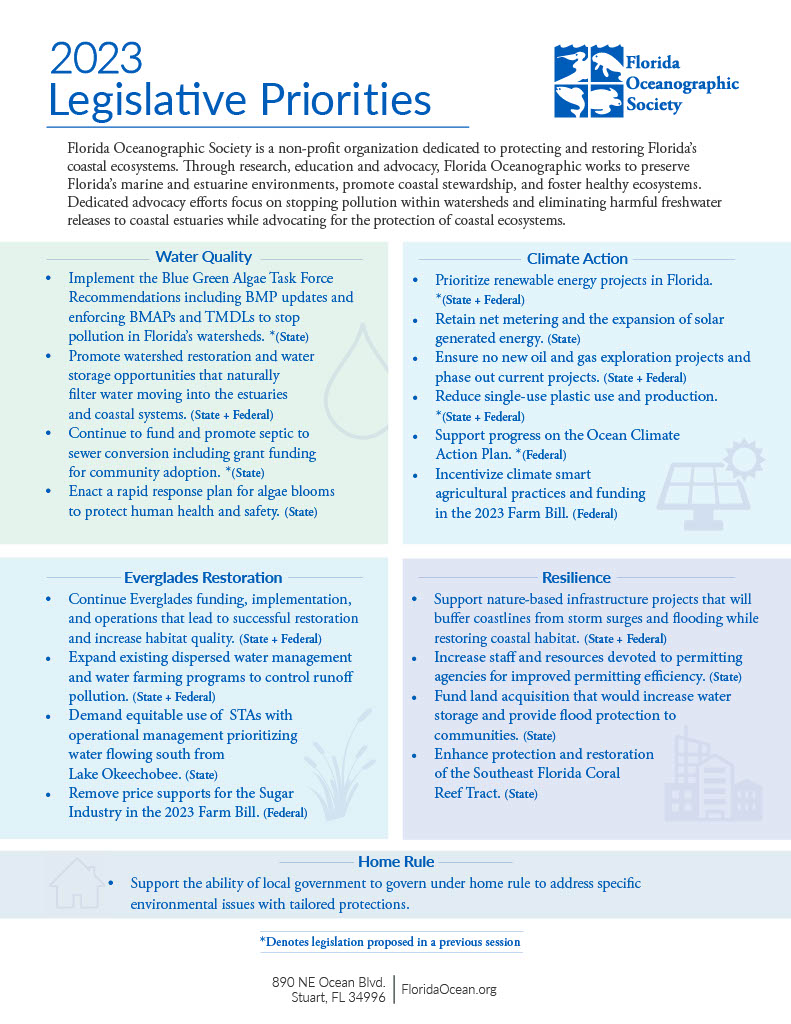 Want to stay in the know?
Sign up to receive advocacy updates from Florida Oceanographic Society on which bills to support/oppose, and learn how you can make your voice heard. — Sign Up!
Take Action
There are many ways you can help preserve our waterways. Show your support and lend your voice to protect our coastal ecosystems now and for future generations. — Learn more
Recent Wins
We cannot achieve a clean and healthy ecosystem without the passionate support of a vocal community willing to fight for their waterways. Here are a some recent wins that could not have been achieved without people speaking out for what they believe in. — Learn more
Our Environment
The issues facing Florida's waterways are comprehensive and unique. Learn more about the threats facing our environment at the links below. — Learn more