The Florida Oceanographic Research Lab is located on the 57-acre campus on Hutchinson Island in Stuart, FL, situated between the Indian River Lagoon (IRL) and the Atlantic Ocean. We provide equipment and resources for resident research staff and visiting scientists including indoor and outdoor bench space, conference rooms, a classroom and an outdoor wet laboratory.
EXPERIMENTAL TANKS
Water is pulled directly from the ocean, mimicking the natural water quality of the IRL, and is pumped to a range of designated research tanks, all with independent faucets and drainage:
Seagrass Nursery Tanks
34 fiberglass seagrass nursery tanks provide 4,120 gallons with 350 sq. ft. of planting space.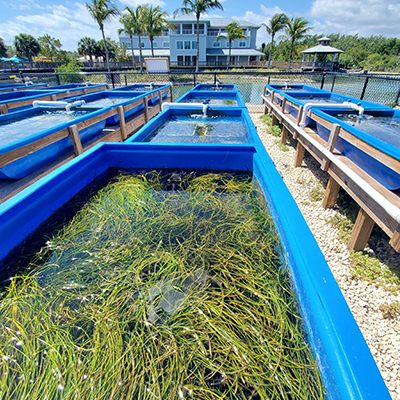 Covered Fiberglass Raceways
16 shade-covered, 100 gallon fiberglass raceways, 55" long X 30" wide and 18" deep, total 155 sq. ft. and 1,760 gallons of tank space.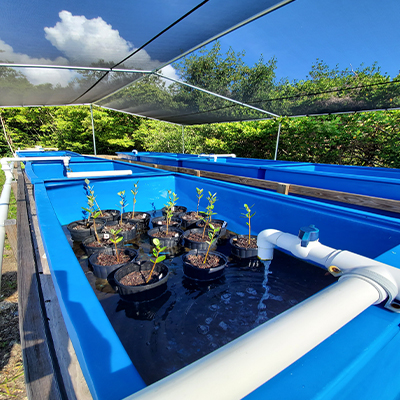 Shoreline Plant Nursery Tanks
9 shoreline plant nursery tanks 20' long X 5" wide, provide 900 sq. ft. and 9,500 gallons of tank space.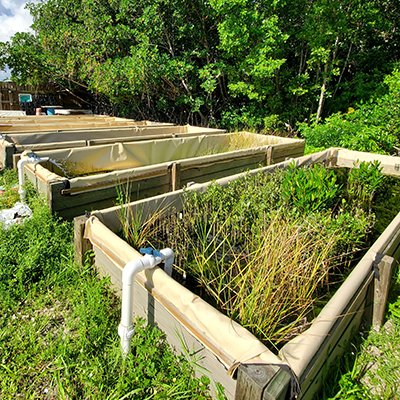 OUTDOOR WET LAB
Florida Oceanographic is home to a 750,000-gallon Game Fish Lagoon of which a portion is allocated for use as an outdoor wet lab. This study area provides a 500 m² area to grow out seagrass in a natural yet contained environment.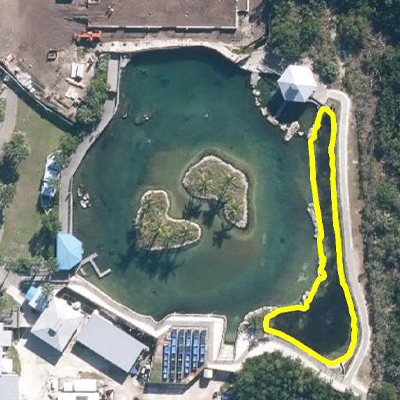 SCIENTIFIC EQUIPMENT
The lab facility houses climate controlled storage, microscopes, and bench space:
Dissecting and compound microscopes
Analytical balances
Mechanical drying ovens
Multi-parameter water quality meters
Designated fridges and freezers for sample storage
FIELD WORK
Much of our research on mangrove, oyster reef and seagrass ecosystems occurs adjacent to the private dock on our property. This area provides direct access to the IRL, an outdoor pavilion and bench space.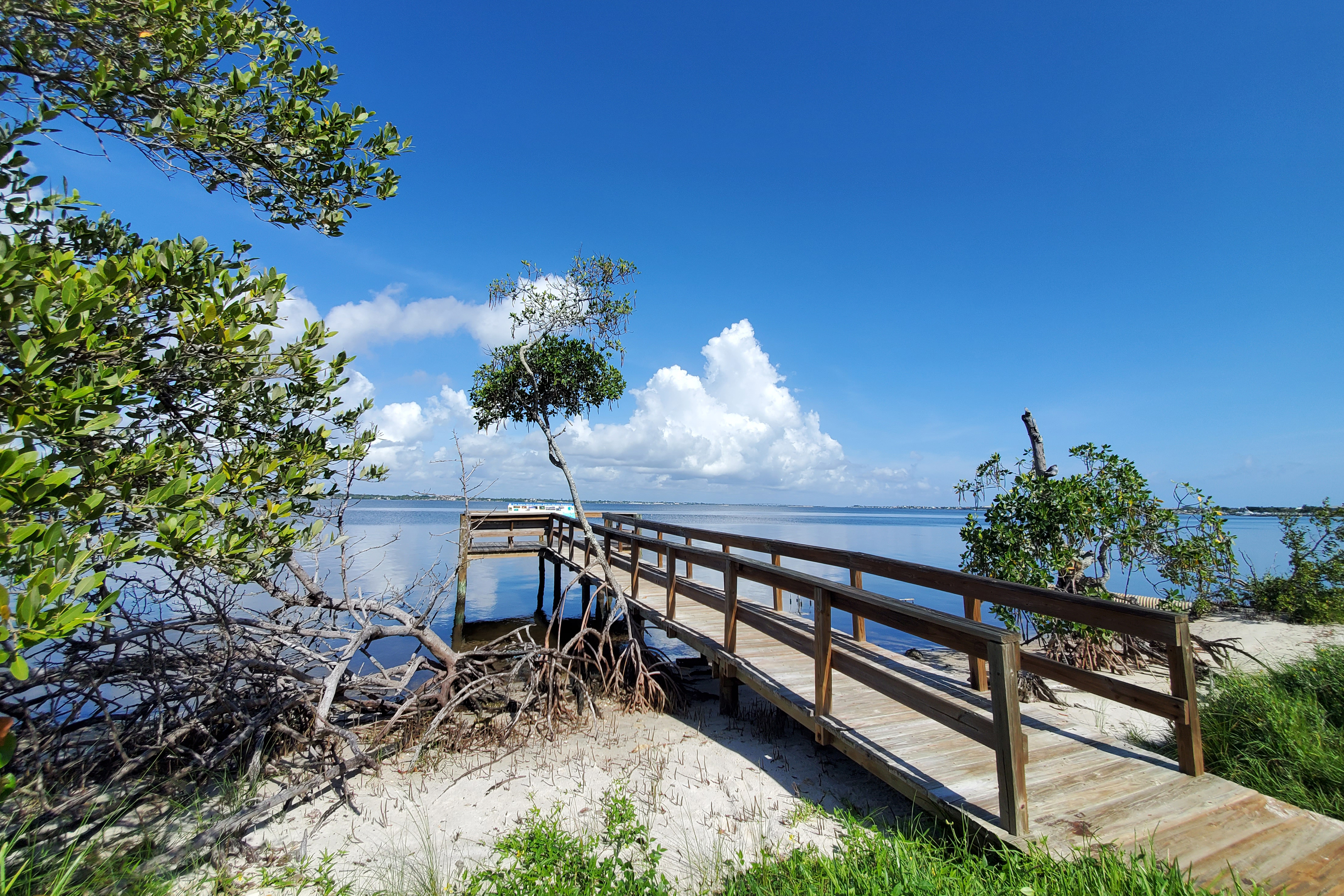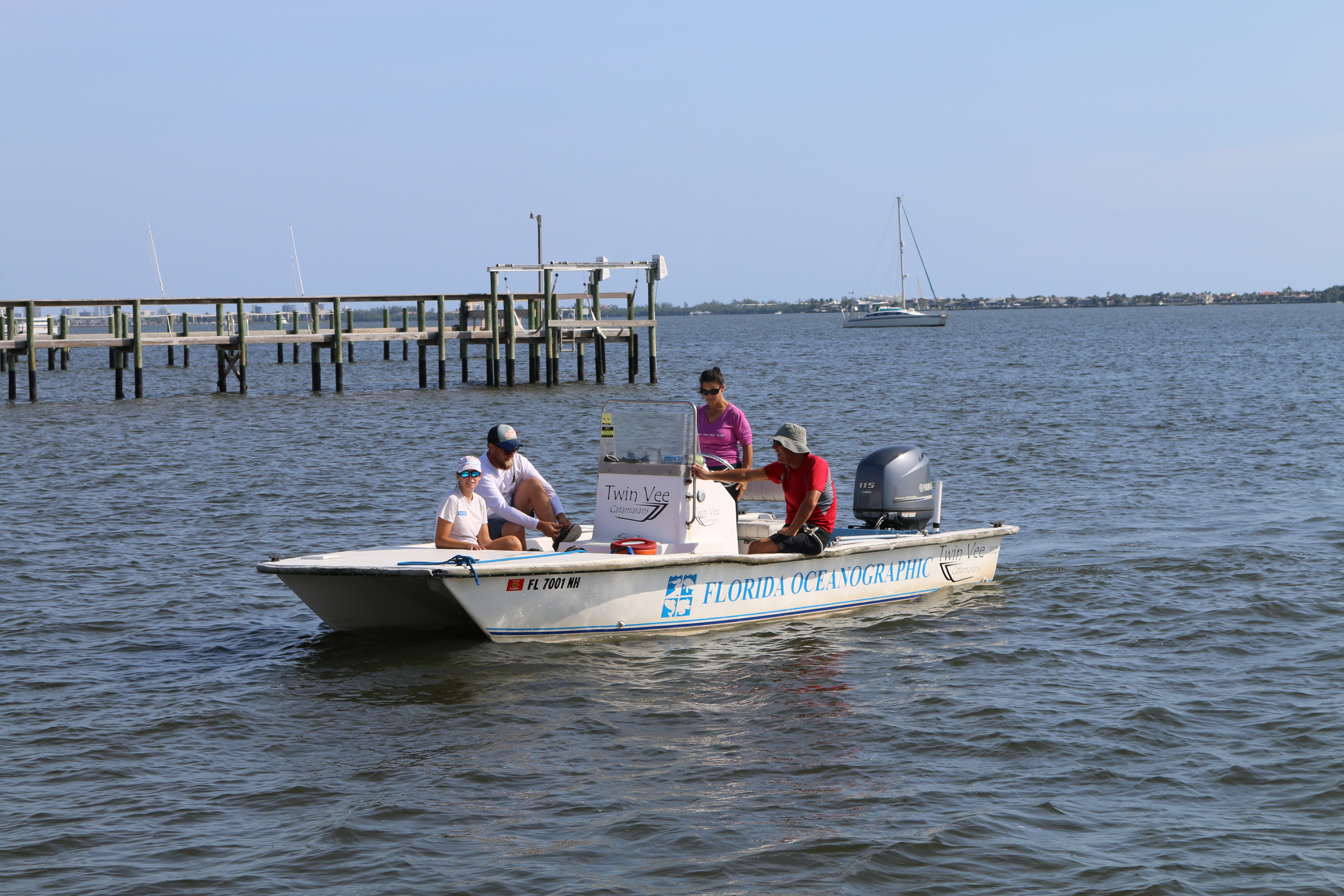 For local transportation and field work, the Research department utilizes:
Twin Vee catamaran: one 20 ft center-console powered by a 115 HP Yamaha outboard for work in the Indian River Lagoon
Kayaks for work in shallow waters of limited accessibility
A 5-passenger pickup truck, a 2-passenger pickup truck, and two 15-passenger vans

ACCOMODATIONS
We are currently unable to offer any on-site housing for visiting scientists. However, if you are looking for overnight accommodations within walking distance to FOS, please consider the Marriot Hutchinson Island Beach Resort. Additionally, Hutchinson Shores Resort is just a short drive from the facility (2.9 miles).
For any questions or to utilize our facilities, please contact Dr. Lorae' Simpson at lsimpson@floridaocean.org