Nighttime Sea Turtle Walk 7-15-21 FULL
About the Event
This event is currently full.
Florida Oceanographic Society's nighttime sea turtle walk program, which is conducted under a state permit, begins with an educational presentation on sea turtle biology and conservation followed by the opportunity, if nature cooperates, for guests to go out on the beach to observe the nesting behavior of a loggerhead sea turtle. 
In response to COVID -19, we have made the decision to limit our capacity to 15 guests per evening. We hope that you will enjoy these smaller, more intimate sea turtle walks. Turtle walks are a close-contact experience. All guests will be required to wear a face covering during the mandatory classroom lecture and while on the beach. Participants who are experiencing COVID-19 symptoms are asked to refrain from attending. We greatly appreciate your cooperation. 
Reminder: This program is conducted under a state permit. Conducting guided sea turtle walks on your own or disturbing sea turtles is against the law. Please keep all lights off while on the beach during sea turtle nesting season, including flashlights, cell phones and cameras. Don't forget to keep a respectful distance from nesting females or hatchlings.
Please read all of the below information before filling out the registration form at the bottom of this page. If you would prefer to book a "single-family" sea turtle walk, please contact Dr. Zack Jud, Director of Education, at zjud@floridaocean.org.
Event registration closes on Thursday, July 15th, at 3:00pm or when full.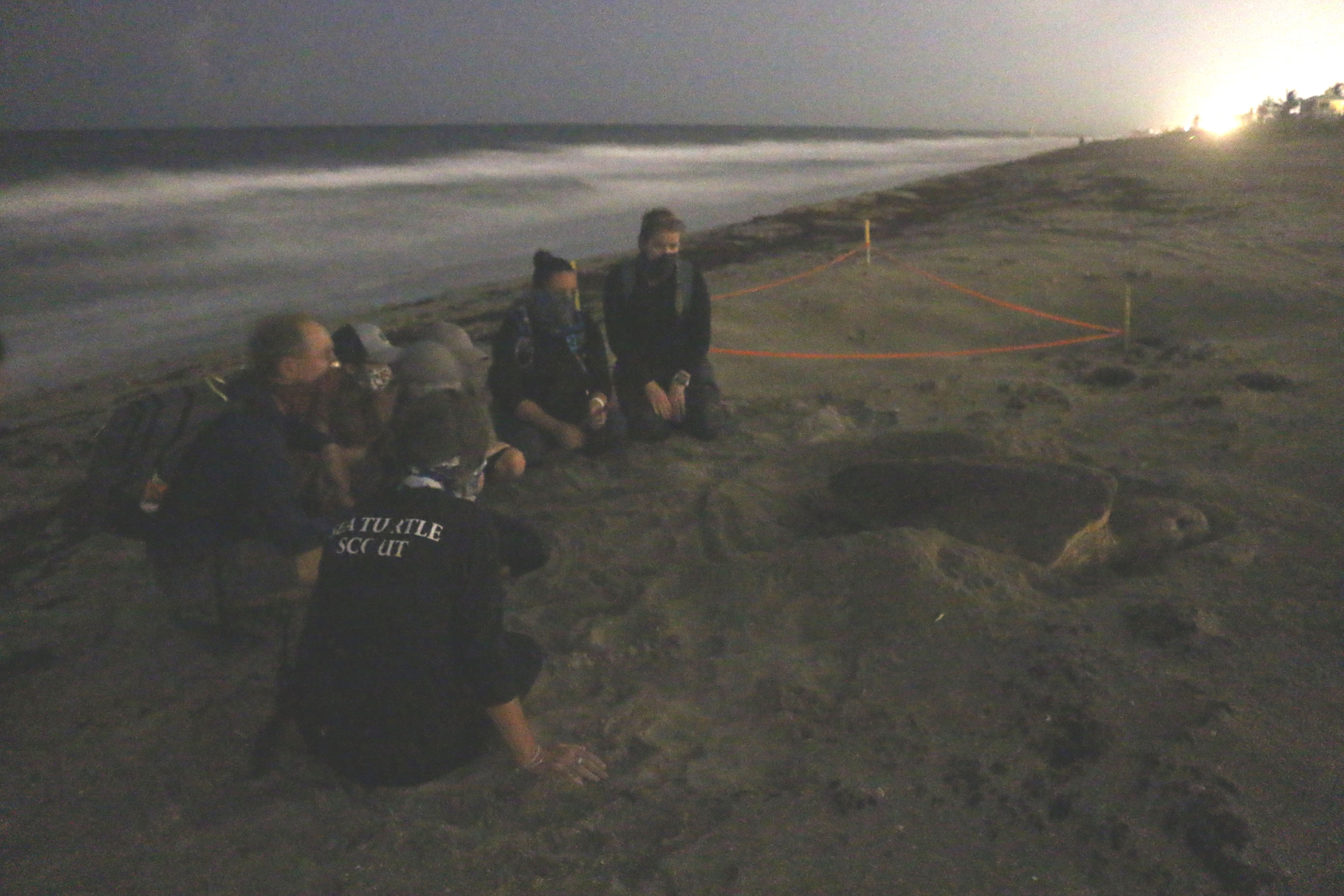 Photo taken in accordance with marine turtle permit #MTP-20-099
Event Details
Florida Oceanographic Coastal Center
890 NE Ocean Boulevard, Stuart, Florida 34996
Dr. Zack Jud, Director of Education

| zjud@floridaocean.org
PROGRAM DETAILS
Program start time: 9:00 pm (Please arrive no later than 8:45 pm, and wait outside of the employee gate at the south end of our parking lot.  A staff member will walk all attendees to our classroom as one group.  The gate to our property will be locked promptly at 9:00 pm, and late arrivals will not be able to participate in the walk.)
Location: Florida Oceanographic Coastal Center – 890 NE Ocean Blvd., Stuart, FL 34996
Program Fee: $30.00 per participant
Age restrictions: Participants must be at least 10 years of age. Guests under 18 must be accompanied by an adult guardian.  
Program Expectations 
Participants must be able to walk in soft or wet sand for up to 1 mile to/from the nesting site. Boardwalks and stairs will also be used for crossing the dunes.
The turtle walk might continue until 12:00 am or later, depending on when a turtle is spotted and how long her nesting process takes.
Following the educational classroom program, guests will wait at the Coastal Center until a sea turtle is spotted by our scouts out on the beach. An educational film will be shown during this time.    
Cut off time for scouts to find a viewable turtle is 11:30 pm.
Sea turtles are on their own schedule, so there are NO guarantees that a viewable turtle will be sighted. We cannot offer refunds if a turtle is not found, but appreciate your support, as all ticket sales directly benefit our sea turtle education programs.
Participants must have their own means of transportation to follow the group from Florida Oceanographic Society to the beach access.
Beach conditions can get rainy, muggy, and buggy, so please come prepared.
We do not cancel the program in the event of rain – no matter how heavy – so bring a rain coat if rain is in the forecast. Lightning may result in delay of program or cancellation.  
Come prepared
All participants must wear a face covering while in the classroom AND while out on the beach.
Black or dark-colored clothing is required (long sleeves and long pants reduce bug bites)
Comfortable shoes that can get sandy and wet (no bare feet please)
Rain coat/poncho  (no umbrellas please)
Bug spray (please apply in the parking lot when you arrive)
A drink and snack while waiting at the Coastal Center (please, no food once we arrive at the nesting beach)
No smoking, vaping, or alcohol consumption during any phase of the turtle walk program
*Please do NOT bring any flashlights, cameras or cellphones on the beach. The use of any light or flash photography can disturb nesting turtles and is not permitted.
Cancellation Policy
No refunds or date swaps will be granted if cancelled within seven days of your reserved date. Due to the popularity and off-hour timing of this program, last-minute cancellations will be considered a donation to support sea turtle education at Florida Oceanographic Society.
In the event that Florida Oceanographic Society must cancel a program, refunds will be issued, but date changes cannot be guaranteed.
​
Registration Help
Registration is limited to 15 spots per date. Please do not bring extra, unregistered guests to your walk.
During registration, your group size will be limited by the number of available spots remaining for your selected night.  All remaining spots will appear in the pull-down menu.
If you would prefer to book a "single-family" sea turtle walk, please contact Dr. Zack Jud, Director of Education, at zjud@floridaocean.org. 
Please include the same email address for ALL participants in your party.