Volunteer Barry Douglass is All-Hands-On-Deck for Florida Oceanographic Society
When there's work to be done at the Coastal Center, Barry Douglass jumps right in. He and his wife Ginny began volunteering for Florida Oceanographic as Water Testers around 2005, and since then, have given their time and talent in many capacities, from Swashbuckler fundraisers to the FL.O.O.R. (Florida Oceanographic Oyster Restoration) program, fish census seining, seagrass studies and mangrove planting.  Barry also brings the only manly pair of hands to the Green Team, a weekly volunteer team led by Ginny. "The Green Team is focusing on planting and maintenance of the Coastal Center landscape," says Barry. "I continue to be amazed at the dedication and energy of all the Green Team members – they are ninja gardeners!"
Raised in Jacksonville, Florida from the time he was a year old, Barry spent time in shipyards, and was always awed by walking under ships 800 feet long and more in drydock, checking the hull, propellers and rudders. His father was a marine engineer/surveyor for the American Bureau of Shipping, and he interested Barry in racing one-design sailboats at a young age. "I started in an Optimist Pram and I moved up to a Moth and finally a Windmill," notes Barry.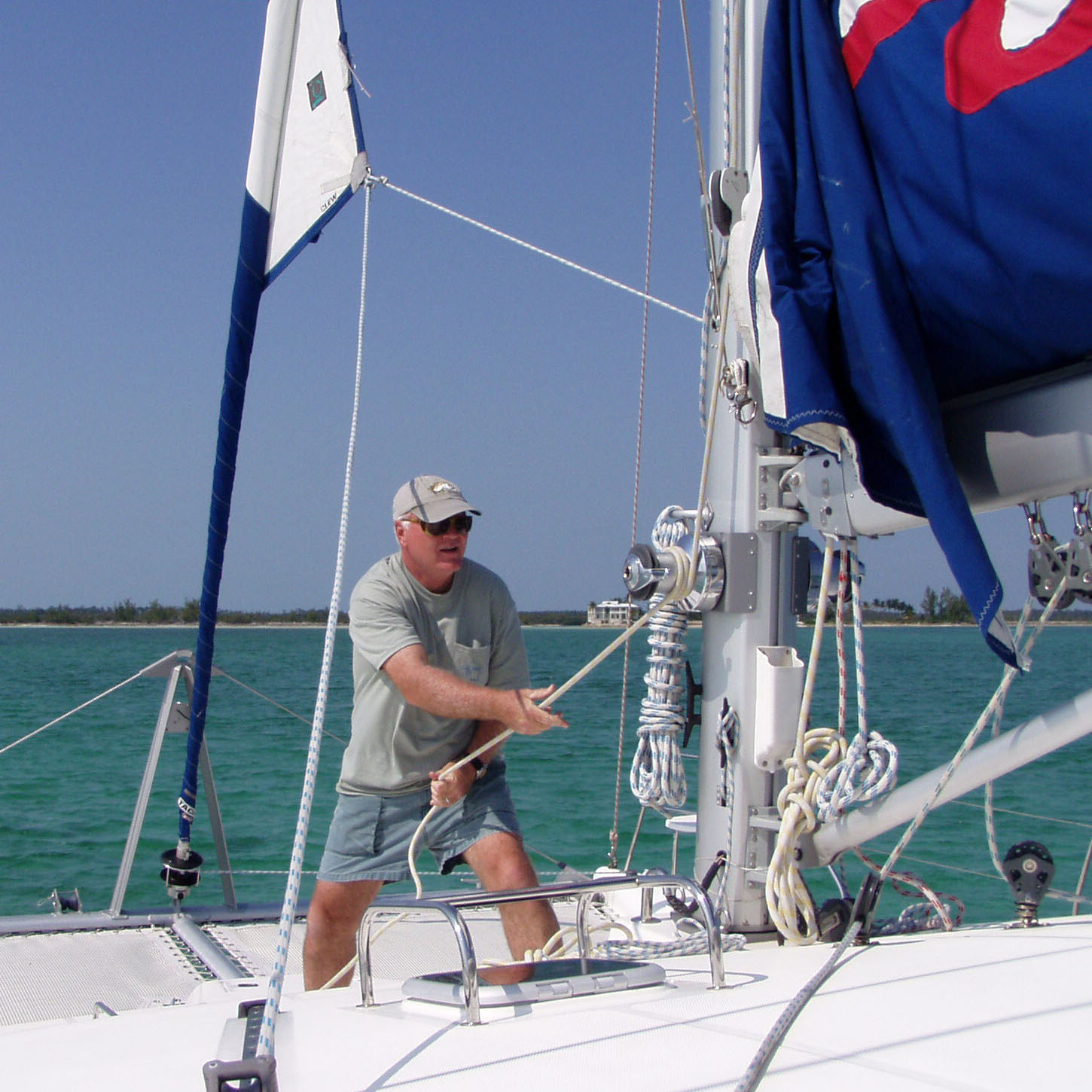 Barry earned an Ocean Engineering degree from Florida Atlantic University. "I met Ginny at FAU where she majored in Chemistry/Biology," says Barry. "We both grew up racing small sailboats and we sailed together several times in college. The rest is history!" The couple married in 1970 shortly after graduation from FAU. They made plans to eventually build a retirement home in Ginny's hometown of Stuart.
Barry began his career as a U.S. Navy contractor specializing in ship silencing and submarine sonar development/performance analyses. It's likely the only people who have spent more time at sea underway on a nuclear-powered submarine than Barry are Navy submariners! Later, he co-founded an underwater acoustic engineering firm, and ultimately sold the business to a Department of Defense contractor. Though he retired in 2018, he is still a part-time, on-call employee supporting current Navy programs. 
Ginny and Barry built their Stuart home in 2004 and began their volunteer service for Florida Oceanographic Society soon after. They miss their sailing days and may soon join the local sailing club for themselves as well as for classes for their two granddaughters. In the meanwhile, they'll continue inshore cruising and fishing on their flats boat.
Barry Douglass Snapshot
Born in: Savannah, GA
Early hobbies: Fishing, diving, water skiing, sailing
Golden anniversary: Celebrated 50 years of marriage with Ginny
Good eats: Hoping to return to seafood, Thai and Italian dinners out in 2021
Fav book: The Hunt for Red October
Great memories: Catamaran charters in BVI & Abacos with friends