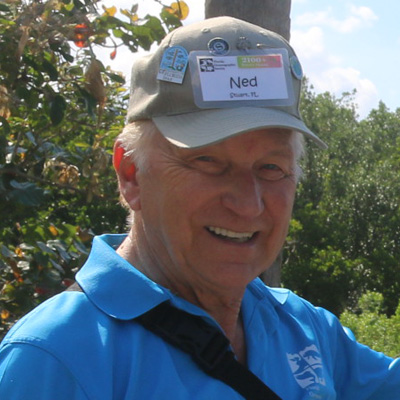 Florida Oceanographic Society's delightful nature trail is about a mile long, but Florida Master Naturalist Ned Wade has logged at least 750 miles walking through this maritime forest. In his 16 years as a Florida Oceanographic volunteer Ned's given 2,200 hours in service as a Nature Trail Guide.
"I'm a people person," says Ned. "I love meeting Florida Oceanographic Coastal Center visitors from all over the world and helping them learn more about what they're seeing on our natural trail."
Inspired by his wife's volunteer work in local schools, Ned signed on with Florida Oceanographic in 2002 as a volunteer trail guide. He's always loved the outdoors. In fact, after high school, Ned was accepted to a renowned school of forestry in upstate New York, but decided to enlist in the U.S. Army to learn a trade. He's pursued outdoor hobbies over the years, including whitewater canoeing, biking and sailing. In fact, Ned was a canoeing merit badge counselor for the Morris, New Jersey-area Boy Scouts for many years. Trail-guiding grew into a passion, and in 2009 Ned earned his Master Naturalist certificate through a program developed by the University of Florida. In addition to his volunteer service for the Coastal Center, Ned will soon begin guiding nature walks through the 680-acre Riverbend Park in Jupiter.
Ned came to Florida 17 years ago to care for a family member he eventually lost to cancer. He'd retired from his career at McKesson Corporation, where he sold safety products to help clients stay OSHA-compliant. His volunteer roles have included first responder-Emergency Medical Technician in a rural town where the nearest hospital was 30 minutes away; and canoe instructor for the scout troops.  These days, he and his wife Barbara are the unofficial tour guides for their Friday morning cycling group. Most Fridays the couples take a 12- to 15-mile ride in the area, then go to breakfast. At least once a year they travel to explore bike trails around the state. Ned handles the trip scheduling and hotel booking. He and Barbara also take a preliminary trip to find where to ride, stay and eat.
"I like to stay active and outdoors," says Ned. "On the nature trail, most people are genuinely interested in expanding their knowledge. I try to keep it light – it's always a lot of fun."
Ned Wade Snapshot:
Born in: rural New Jersey
Veteran: U.S. Army
Lifetime of Skills: EMT, whitewater canoe instructor, master naturalist
Maritime Talent: "I enjoyed sailing my 16' Hobie Cat"
Favorite Eats: Alice's, Osceola Café, Cracker Barrel