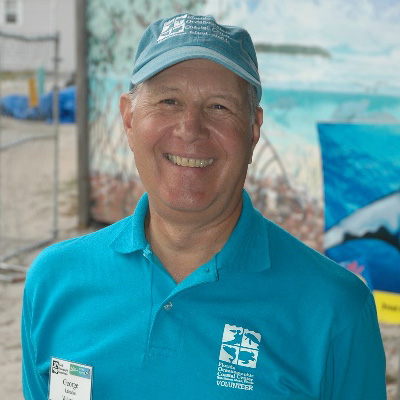 In 2001, when George Labadie inquired about volunteering in the winter months, Florida Oceanographic Coastal Center staff was happy to have him onboard. Over 16+ years, George has given more than 1,200 hours of service. He's focused his time on engaging visitors with the stingray and touch tank exhibits, and also helps with school groups and special events. His friendly smile and professional sales skills have helped build the solid reputation the Coastal Center enjoys today.
"The growth of Florida Oceanographic has been remarkable," says George. "It has transitioned into an important resource for the community, and I'm happy to be a part of it. My wife Carol and I are members too. We want to support its continued growth every way we can."
Prior to his retirement in 2002, George was a manufacturer's representative, and owned his business before selling it to a larger representatives group. He specialized in sales of access control components and security hardware and equipment for jails and detention centers. George often worked with architects on specifications for jail construction. He jokes, "I've been in jail at least one hundred times, but I've always been able to get out!"
George and Carol split their time between Hutchinson Island and Wayne, New Jersey. They enjoy being near their family in both locales: A daughter, son and four grandchildren live nearby in New Jersey, and another son and grandchild live in Jupiter. A self-described nature lover, George is passionate about natural landscape photography, and has entered his photos in contests. He and his wife also like to visit America's national parks. They've explored most of the biggest parks in the West and Northwest United States, and many on the East Coast, too.
For many years George has been a member of the Stuart Corvette Club. When they're in town, he and Carol like to spend time at the events and shows with other Coastal Center volunteers who are also Corvette Club members. He's committed to his time at Florida Oceanographic Society. "Over the years I've come to know the staff at the Coastal Center, and they are dedicated, smart, professional and great to work with," notes George. "They have a great group of volunteers too. It's a fun place to be."
George Labadie Snapshot:
Born in: Newark, NJ
Army Veteran: Served in Korea in 1965-1966
Hobbies: Natural Landscape Photography
Classic Wheels: 2003 Corvette convertible (50th Anniversary Edition)
Favorite Trips: America's National Parks