Intern Marisa Gazzola Bonds with Our Sea Turtles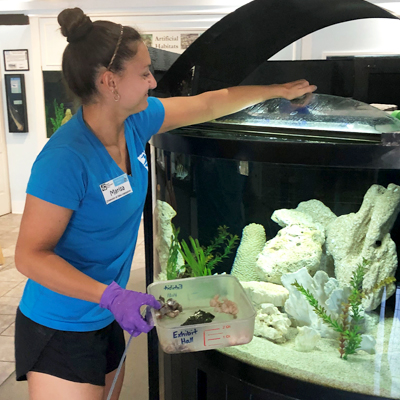 If you love sea turtles, Florida Oceanographic Coastal Center is a perfect place to spend your summer. That's what FOS intern Marisa Gazzola thought when she applied for the animal care internship. Three to four days each week from May through mid-August, Marisa is helping our staff prepare daily food rations and medication, monitor diet, behavior and health, feed the animals and clean their habitats.
"I got interested in ocean life as a kid during our family trips to Florida, and now I'm studying marine, estuarine and freshwater biology in college," says Marisa. "Last summer I interned at the Loggerhead Marinelife Center helping with the turtle walks and hatchling releases. I found FOS when I was searching for an opportunity to do more animal care."
Marisa is a senior at the University of New Hampshire, where she's a Division 1 track and field athlete on the school's team. Her specialty is short sprints like the 60M, 100M and 200M events. She and her mom and dog are spending the summer at the family's condo in Jupiter while Marisa interns and also takes classes at Palm Beach State College. She enjoys weightlifting in her (infrequent) free time.
One of the things Marisa has learned is that marine biology is a lot messier than you might expect. Her love of sea turtles keeps her motivated even when she's cutting up the aromatic dead fish which are part of the daily rations. "The four sea turtles that live permanently at the Coastal Center each have their own unique personality," notes Marisa. "They're my favorite species. After I graduate, I'm hoping to get a master's in marine biology and eventually work in sea turtle research and rehab."
"The summer here has been fantastic," she adds. "The staff is very friendly and close-knit and the property is beautiful. It's been a great internship experience."
Marisa Gazzola Snapshot 
Born in: New York 
Favorite college class: Aquatic Animal Diversity
Sports: Division 1 Track & Field athlete at U of NH
Good eats: U Tiki Beach waterfront restaurant & bar, Jupiter
Top tunes: Anything that's not country
Secret skill: Complex hair braiding