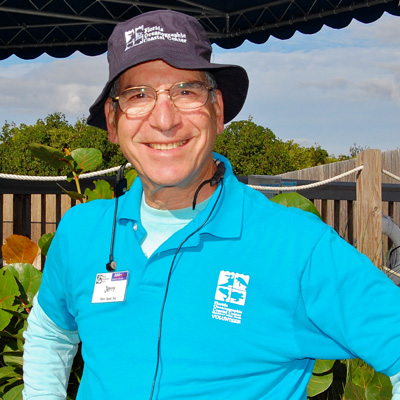 Attend a stingray or turtle presentation by Florida Oceanographic Coastal Center volunteer Dr. Jerry Aronson, and you'll experience how Dr. Jerry enjoys helping guests learn on their own terms. As a stingray and turtle presenter, Dr. Jerry presents daily informational programs at our Coastal Center for our visitors.  "My objective is to engage with our guests, invite their questions, and encourage their observation skills with our conservation ambassadors," he says. "They will be able to learn much more effectively and move towards good environmental stewardship."
A retired pediatrician, Dr. Jerry has volunteered more than 1,300 hours of service to the Coastal Center in the last 12 years. He and his wife, Dr. Susan Aronson, who is also a pediatrician, split their time between Pennsylvania and the Stuart area. In Philadelphia, Dr. Jerry volunteers as a Science Presenter at The Franklin Institute Science Museum. "Whether it is inspiring science through dissecting sheep hearts or cow eyes, or interpreting the STEM behind the Terracotta Warriors at The Franklin Institute, or inspiring environmental stewardship with our wonderful conservation ambassadors at the Florida Oceanographic Coastal Center, my objective is the same – engagement promotes education, involvement and action at all ages," he says.
Drs. Jerry and Sue met on their first day at Case Western Reserve University School of Medicine in Cleveland, Ohio. They married two years later.  After post-graduate training and Navy service, the couple settled in Pennsylvania and quickly became involved in academic pediatrics and public health. Dr. Jerry served as Medical Director of School Health Services of Philadelphia, overseeing health services for 400,000 children. He also worked in primary care and medical management, creating community-based pediatric networks.  Over the years, Drs. Jerry and Susan have volunteered their medical expertise and services in Ecuador, Peru and Uganda, greatly benefiting from these cross-cultural experiences.
The Aronsons have two children, a daughter in Massachusetts who is also a pediatrician, and a son who is an attorney for the United States Holocaust Memorial Museum. Dr. Jerry fondly remembers family RV trips, including one in 1977 through East Germany to Berlin and across Europe when his children were young. The Aronsons continued the family RV tradition with grandparent-grandchild trips across the U.S. and Canada, logging more than 115,000 miles in their RV and creating life-long bonds with their five grandchildren. 
When he's not volunteering his time, Dr. Jerry works on an ancestry legacy history for those great-grandchildren he and his wife may never see. Currently at 26 chapters, it includes family genealogy, anecdotal family history and lots of visuals to share Dr. Jerry's and Dr. Sue's beliefs and values about the continuum of life. Expanding their own learning with domestic and international travel, he and Dr. Sue will visit China this year. Dr. Jerry notes, "Our lives are enriched by the people and places across the world. Travel helps us walk in the shoes of others, and understand that often, there is no one right way."
Dr. Jerry Aronson Snapshot:
Born in: Brooklyn, NY
Military Veteran: Served in Medical Corps, U.S. Navy Reserve
Wheels Up (travel): Exploring China and the Terracotta Warrior this year
Favorite eats: New England Fish Market
Recent read: American Icon about Alan Mullaly and the fight to save Ford Motor Co.