Gary Goforth's Professional & Personal Commitment to the Environment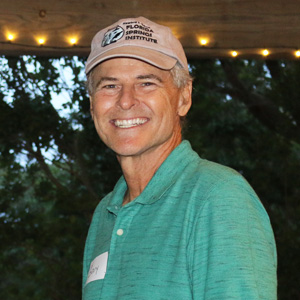 For the last three years, Gary Goforth has been an active board member for Florida Oceanographic Society, but his commitment to environmental protection spans decades. An environmental engineer, Gary was working for the South Florida Water Management District in the 1990s when he met Executive Director Mark Perry. It was the start of a wonderful relationship. "I provided many analyses to help FOS and the public understand water flows and pollution entering the St. Lucie River and Estuary," says Gary. "When the devastating discharges happened in 2013, I started working very closely with Mark to quantify pollution levels. It's become clear that this ecosystem is losing its resiliency."
As a teen, Gary was highly moved by Rachel Carson's Silent Spring. He decided to pursue environmental studies at the University of Florida, and specifically environmental engineering because it is solution-oriented. He's had the opportunity to work on large-scale restoration projects for the Everglades and the Kissimmee River. Now running his own consulting firm, Gary chooses to do much of his environmental protection work pro bono.
Gary and his wife Karen have three children and two grandchildren. They moved from West Palm Beach to Stuart in 1994 for Martin County's highly-rated school system. Now that their family has spread out to Oregon, California and Louisiana, the couple puts a lot of miles on their Airstream trailer. At home in Stuart, Gary likes to be in or on the water, or bowhunting for wild hog and deer. 
As a FOS board member, Gary has taken on leadership of the Advocacy Task Group.  This team meets about every six weeks to formulate strategies, plans and programs to provide expert advice to Federal, State and local governments and organizations on issues of ecological policy, current ecological problems, and management of Florida's ocean and coastal ecosystems.  He also co-chairs the Research and Education Committee with board member Nancy Rand, a group which provides oversight to the education programs and research projects for the organization.
As someone who's dedicated his professional career and his life to protecting the environment, Gary's outlook today is a blend of frustration and optimism. "As a grandparent and as a professional, I feel a huge sense of urgency. The devastation in the St. Lucie Estuary becomes more dramatic with each devastating discharge from Lake Okeechobee, and the recovery slower, or not at all in the case of critical parts of the ecosystem like the seagrasses," he adds.  However, positive things can happen with strong citizen advocacy.  "The Kissimmee River restoration will have taken more than 50 years by the time it's done, but it is happening. Citizens made it happen, and we can do the same for the St. Lucie Estuary and Indian River Lagoon."
"The work of the dedicated FOS staff and wonderful volunteers is absolutely essential."
Gary Goforth Snapshot
Born in: Texas
Hobbies: Surfing, diving, fishing, bowhunting, biking and pickleball
Great reads: The Gulf (Jack Davis); Oranges & Inlets: An Environmental History of Florida's Indian River Lagoon (Nathaniel Osborn)
Good eats: Grilling fish and wild game at home for family and friends