"Reverse Snowbirds" Ann & Ron Cyrus are Passionate About Nature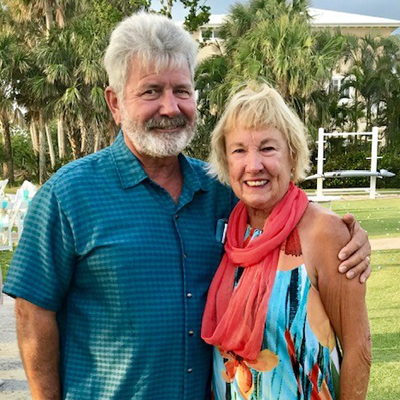 "Our society has a nature-deficit disorder, and we're trying to change that," says Ann Cyrus, a retired minister and teacher. "We're outdoors enthusiasts who love learning about nature and sharing it with others." Ann and her husband Ron are five-year veteran volunteers at the Coastal Center, where they greet visitors at the touch tanks and help with the stingray program.
During the summer and fall, Ann and Ron are always willing to pitch in for FOS. They've served as turtle scouts, helped with Lights on the Lagoon and the FLOOR (Florida Oceanographic Oyster Restoration) program and more. "Volunteering at the Coastal Center is something we really enjoy," says Ann. "We get so much from sharing all of the wildlife and nature in our ecosystem with others, and seeing them get as excited about valuing it and preserving it as we are."
Though the couple lives locally, they volunteer in the winter and spring months as tour guides at historic sites in state parks while living in their RV. They've served in Texas, the national parks out west, and in parks from the panhandle to the Keys in Florida.  This year they're at the Trapper Nelson Interpretive Site in Jonathan Dickinson State Park in nearby Hobe Sound.
Ron, a retired probation officer, and Ann met through friends in Virginia Beach. The couple married, and when they retired, traded in the comforts of home for the spontaneity of a seven-year R.V. trip across the U.S. However, their first love is tent camping. "When we met, Ron had never been camping in his life, but he's open to trying new things," says Ann. "It's one of the things I love about him. He's really gotten into it, and we both prefer it over our RV. You're closer to nature, you hear and see more wildlife - it's just a wonderful experience."
The Cyrus's love of travel has taken them to Central America, where they greatly enjoyed the savannas and dry tropical forestlands of northwestern Costa Rica. Florida's wildlife and tropical environment continue to draw them back home.
"We're passionate about being environmental educators," adds Ann. "Plastic bags, balloons, single use items and plastic straws found on the beach are such a danger to our wildlife. We constantly educate people about our responsibility to take care of all the creatures that share our Earth!" 
Ann & Ron Cyrus Snapshot
Born: Old Dominion State (Virginia)
Married: 20 years, with 4 grandkids
Hobbies: tent camping, kayaking, beach walking, biking, birding
Favorite destination:  Florida Keys
Good eats: They're foodies who also love to cook over the open campfire