Michele Paul Finds Her Niche with Florida Oceanographic Society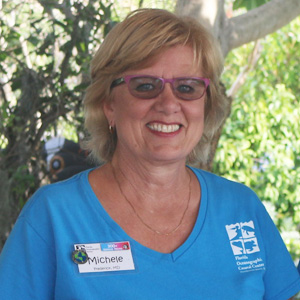 Michele Paul's love of the ocean, birds and "outdoorsy stuff" as she likes to say started very early. Her father was a biologist who opened his children's world to nature in frequent hikes and visits to Chincoteague and Assateague Islands not far from their home in Maryland. When Michele and her husband Dave moved to the area in 2014, it was like coming home.
"We knew we wanted to retire to Florida," says Michele. "During a visit, our nephew suggested we visit the Coastal Center, and right away I was hooked. I look forward to every Thursday afternoon, and I fill in whenever they need me on other days too."
In the last four years, Michele has given nearly 500 hours as an exhibit guide at the touch tank and stingray exhibits.  "I love learning about the animals and sharing that with our guests," says Michele. "Every week I learn something new from our staff, and the volunteers and guests too. It's a great experience for a lifelong learner like me."
Now retired from her 35-year career in purchasing at Montgomery College, Michele has more time for birdwatching. Her birding life list, started when she was 12, has grown quite a bit since her move to Florida. "We live close to Savannas Park so we get an up-close view of many species including sandhill cranes. I love seeing them in our backyard, especially the young colts."
The couple also likes to hike, and walk the beach. "My husband and I went on a turtle walk with the Coastal Center a couple years back, and were lucky enough to see a mama loggerhead lay her eggs," she adds. "It was truly one of my most memorable experiences."
Michele enjoys learning about the flora and fauna new to her in Florida. She's trying her hand at gardening, and takes advantage of Florida Oceanographic' s programs to educate herself on the serious challenges with water quality and the environment. "I'm glad to be helping educate people on environmental stewardship, and I hope to try some of the volunteer work like oyster bagging and the sea grass restoration soon," says Michele. "I want to support Florida Oceanographic' s mission statement 100%."
Michele Paul Snapshot
Born in: The Old Line State (Maryland)
Family: Sons in Stuart and Washington, D.C.
Hobbies: Birdwatching, beach going, hiking, home remodeling
Wildlife sightings: Bobcat in Halpatiokee Park, loggerhead turtle on Hutchinson Island
Friday nights: Tasting craft beer with friends
Favorite book: Peterson Field Guide to Birds