Meet Dynamic Volunteer Duo Sandra & Joe Urban
If you see a pair of bicyclists wearing the trademark-blue Florida Oceanographic Society t-shirts on the road between Palm City and the Coastal Center, honk your horn for Sandra and Joe Urban. This dynamic duo has been part of our volunteer family for 11 years. They've given a combined 3,500 hours of service, Sandra as Sea Turtle Program presenter, and Joe as Gamefish Lagoon presenter.
The Urbans retired about 20 years ago, and wintered in the Florida Keys on their 36' trawler for two years before moving to Palm City. They still spend summers in Lancaster, Virginia. The couple met at Penn State University, where Sandra earned her degree in work and family studies, and Joe in computer science. Flexibility in their careers enabled them to live in Switzerland for three years, and they took the opportunity to travel frequently across Europe. They also did an around-the-world trip with stops in Bangkok, Singapore, Hong Kong, and Sydney before returning to the U.S.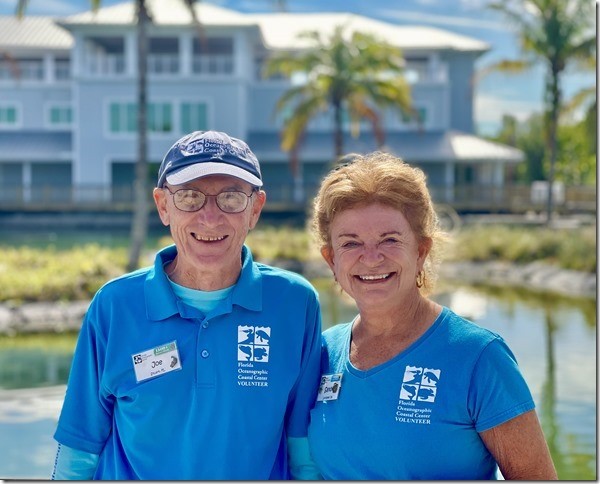 Sandra taught high school home economics for 31 years, and has a master's in education. She loves to bake, cook and sew, and she's become famous for the holiday cookies and candies she shares with Florida Oceanographic Society staff each year. She is a Florida Master Naturalist, and became a Master Gardener in Virginia, where she has a small orchard filled with blueberry bushes and apple, fig, peach and pear trees. She also plants many of the flowers that grew on her family's farm in Pennsylvania. Sandra spends time at the gym almost every day in yoga or spin classes.
Born in London, Joe moved with his family to Australia and then the U.S. when he was five years old. He began his programming career working on giant Xerox computers, and was in computer security for the last five years before he retired. His passion for scuba diving has taken him to New Guinea, Belize and the Red Sea. He's also skied some of the world's greatest slopes. Now, Joe spends time working on his hobby cars, which include a 1966 Lotus Elan. He and Sandra like to go to car auctions and shows.
"We're curious people," says Sandra. "We like to learn and we love that we continue to learn on our days at Florida Oceanographic Society."
"We're both looking forward to the new building being fully open, and the volunteer get-togethers," adds Joe. "This is an exceptional group of dedicated volunteers and staff."