Meet Board Member Paul Hederman Saturdays at the Touch Tank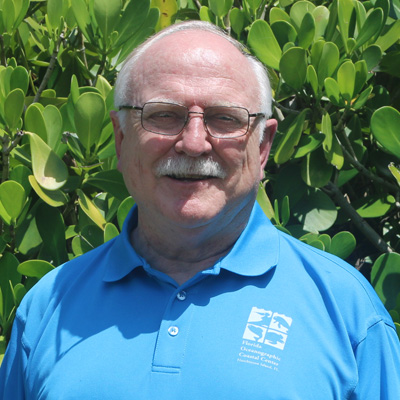 "It's about as different as I could get from my professional life, and I love it more than I expected," says Paul Hederman about his role as exhibit guide. "I really enjoy interacting with our visitors, especially the kids."
Paul and his wife Verna have supported Florida Oceanographic Society for many years as President's Club members. When Paul retired (briefly) in 2014, he wanted to get more involved, so he started as a year-round exhibit guide at the Coastal Center. Since then, he's joined Florida Oceanographic Society's Board of Directors, and heads the Strategic Planning Task Force. Though planning for the Coastal Center's direction in the next few years is still in the works, Paul believes expanding FOS's commitment to advocating on behalf of issues that affect our coastal environment will continue to be one of our top priorities.
A native of Massachusetts, Paul joined the Air Force right out of high school. He served in Vietnam, Okinawa, Guam and other places around the world.  Paul spent much of his 22-year military career as a B-52 tail gunner in the Strategic Air Command. Toward the end, he moved into an executive staff role, developing skills he would parlay into a long career in Human Resources. Though his first civilian job was at Disney, he soon moved to Florida Power & Light.  HR and executive roles at several other global organizations positioned him well to start Cambridge Consulting in 2014, a firm that specializes in workforce development and HR consulting.
He and Verna met in Denver while Paul was stationed there and Verna was working as an RN. Married for 47 years, the couple lived all over the United States and the world during Paul's service in the Air Force. They settled in the Stuart area in 1988. One of Paul's hobbies is woodworking, and he shared those skills by crafting the boat in the Coastal Center's Children's Pavilion.
Since 2014, Paul has given more than 1,000 hours of service on the Board, at the touch tanks, and for various events. He recently joined United Way's Martin Volunteers and RSVP (Retired Senior Volunteer Program).  Florida Oceanographic Society is a United Way partner, and his hours are now reflected in the United Way's service movement.
"I've been very impressed with everyone at the Coastal Center," notes Paul. "All of the Board members are extremely hands-on and fiercely committed to making a difference. The same is true for our volunteer corps. This is a very talented group that wants to give back on all fronts – education, research and advocacy.  It's an honor to serve with both groups."
"Working with the kids here, the teens in TEAM Ocean, our college interns, and our youngest visitors, was intimidating at first, but it quickly became so rewarding. We think in very different ways, but they are well informed and passionate about the environment.  It's people of all ages contributing that makes the Center such a great place to be."
Paul Hederman Snapshot:
Born in: Cambridge, MA
Alma mater: M.S. from Binghamton University School of Management  
Hobbies: Woodworking, car shows and racing with his 2017 Z06 Corvette, fishing 
Favorite flicks: Out of Africa, The Book Thief, Dr.Strangelove
Favorite books: German Boy, Masters of the Air, Undaunted Courage 
Good eats: Riverwalk Café & Oyster Bar