Meet Board Chairman Allen Herskowitz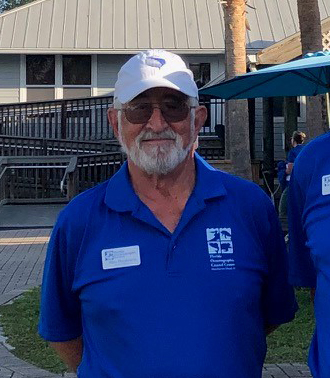 Like many Florida Oceanographic Society volunteers, Allen Herskowitz's first visit was with family members who came to feed the stingrays. Today he's Chairman of the Board of Directors, a service role he's held since 2017. One of his first tasks was to make advocacy, something the organization had always done, an official part of its mission statement.
Currently, he and the Board are focused on strategic planning for the organization's future. "Our millionth visitor was a huge milestone this past summer, and the demand for our education efforts, both on-site and remote, have greatly increased," says Allen. "We've also seen public interest in the St. Lucie River and Indian River Lagoon continue to increase. It became clear that it's time to execute (Executive Director) Mark Perry's early vision for expansion. One of the very visible ways that's happening is with the construction of our Ocean EcoCenter."
As Board Chair, Allen has wide-ranging responsibilities. "The Board's job is to oversee strategic direction, monitor the finances, and make sure we stay on a stable path," Allen notes. "We work closely with Mark, but we're also careful not to overstep into the day-to-day operations. That's Mark's purview, and he does a superb job."  Allen serves on the Advocacy and Finance Committees, and speaks at all donor events.
Allen and his wife of 57 years, Susan, moved to Hutchinson Island full-time in 2001 from Reston, Virginia. It was a return to Florida for the couple, who met at the University of Miami as undergraduates, where Allen majored in electrical engineering. He earned a Master of Science degree in electrical engineering from George Washington University, and spent his career in national defense and intelligence, working for large government contractors. Along the way, Allen and Susan raised a son and a daughter, and spent many years boating on Chesapeake Bay.
"We promised ourselves we would travel the world when we retired, and we've been everywhere from the Artic to the Antarctic," says Allen. "Most of our trips involve a combination of photography, local wildlife and conservation. We recently were in Borneo where we learned more about conservation of orangutans and sea turtles there, and we'll be taking our fifth trip to Africa in March."
Allen jokes that "what you see is what you get with me," but he is clearly an active participator and leader.  In his volunteer role as Chairman of the Beach and Waterways Committee at Sailfish Point for the past 15 years, he has worked closely with local, state and federal agencies on beach renourishment. He also supports nonPareil Institute, an Austin, TX nonprofit dedicated to building better futures for adults with autism. The Herskowitzes have a grandchild on the autistic spectrum, and finding a productive and satisfying path forward for him and other young adults on the spectrum is a priority.
Recently, Allen was honored with the Albert Nelson Marquis Lifetime Achievement Award for his leadership and accomplishments in his field. One of the many personal strengths Allen brings to the Board is his engineering approach. "As we've seen so many times in history, every solution has a ripple effect," says Allen. "Lake Okeechobee and the Everglades are just one example of a solution that seemed right at the time, but nearly 100 years later, we are still facing the long-term consequences. Our advocacy, joined with advocacy efforts by other community organizations, is essential in recreating the natural waterways in Florida."
Allen Herskowitz Snapshot
Born in: Brooklyn, NY
Good eats: Kyle G's, Bonefish Grill
Weekly klatch: Stuart Coffee Club
Hobbies: Scuba, tennis, golf
Recent reads: The Intelligence Trap: Why Smart People Make Dumb Mistakes, by David Robson, The Swamp, by Michael Grunwald; High Tide On Main Street: Rising Sea Level and the Coming Coastal Crisis, by John Englander