Marilyn Davis Shares Her Lifelong Passion for Education with FOS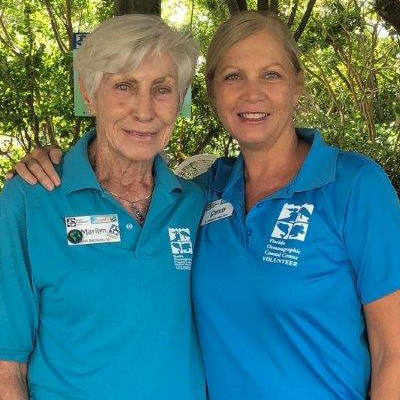 When the State of New York needed mentors to teach elementary school instructors its new, highly hands-on science curriculum, Marilyn Davis took on the challenge. The assignment was one of many opportunities Marilyn has found to put her passion for teaching into action. She's taught elementary students at all grade levels, kids with special needs, science teachers, New York boaters, and FOS visitors of all ages. In the last 15 years, Marilyn's given more than 1,000 hours of volunteer service to FOS.
Marilyn's career in public education spanned three states and nearly 30 years. Her work with the New York Board of Cooperative Educational Services was a highlight in the livelihood she loved. "I've always been interested in science," says Marilyn. "Doing workshops for elementary teachers on the new science curriculum was interesting and a lot of fun."
At the time, she and Randy, her husband of 57 years, were raising their three daughters on Long Island. In their free time, the couple enjoyed many cruises along the upper East Coast in their 30-foot sailboat. Marilyn was a member of the Long Island Coast Guard Auxiliary, and taught public courses that covered boating safety, regulations and basic navigation.
After Marilyn retired, the couple came to visit friends on Hutchinson Island and fell in love with the area. They've been here full-time now for about four years.  At the Coastal Center, Marilyn has done everything from presenting at the Gamefish Lagoon to special community events and beach clean-ups. Currently she is an exhibit guide assisting at the ray tank and touch tanks. "When I first started volunteering, the stingrays were the only outdoor exhibit," notes Marilyn. "It's been so exciting to see the Coastal Center and the volunteer family and staff grow over the years."
Marilyn's daughter Sandy followed her mother into the teaching profession. She recently retired and moved to Florida, and Marilyn wasted no time in recruiting her as an FOS volunteer. "I love seeing our visitors learn something new, especially the adults," says Marilyn. "When I don't know the answer to a question, it's a great opportunity for me to do some research and learn, too. One of my biggest passions in life is education, and being able to use those skills here keeps me happy and going strong."
Marilyn Davis Snapshot
Born in: Massachusetts
Alma maters: Massachusetts State, Long Island University
Proud grandma: 5 grandkids in California and New York
Hobbies past & present: Walking the causeway bridges, beaching, fishing, sailing, miniature paintings
Favorite eats: Lola's Seafood Eatery