Maggie O'Brien Preserves & Protects Plant Life at the Coastal Center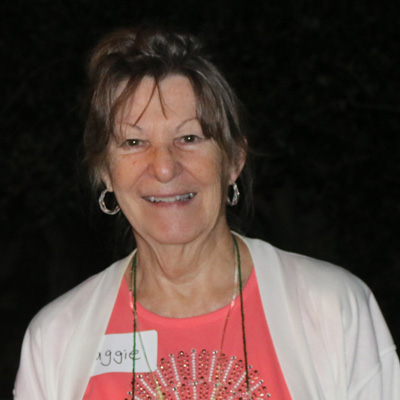 Maggie O'Brien doesn't mind getting down and dirty on behalf of Florida Oceanographic Society. For nearly 10 years, Maggie has volunteered on the Green Team at the Coastal Center. This volunteer group  cares for the Butterfly Garden and Coastal Center grounds,  propagates native plants in the shade house, and helps in the seemingly never ending effort to eradicate invasive species such as the Brazilian pepper tree and wedelia using chemical free techniques. Maggie is happy putting her considerable gardening skills to use for environmental stewardship!
"My friend Ginny Douglas introduced me to FOS," says Maggie. "We were Master Gardeners together at the time. I love being part of the team here with the staff and volunteers, and being able to give back to my community." She has been a Green Team (GT) member before there was a formal GT; her service goes back to the 2009 planting of the preserve areas behind the Turtle Pavilion.
A Jensen Beach resident since early childhood, Maggie attended local schools from elementary grades through college. She worked in private industry for 20 years, then transitioned to Defense Contract Management Command for another 20 years. Her last position was secretary to the commander in the Northrup Grumman Melbourne field office for the Department of Defense.
Since she retired, Maggie has had more time to pursue some of the hobbies she loves, including raising orchids, reading and crafting. Her latest craft interest is quilling, a paper art that involves rolling, pinching and shaping long strips of paper into filigree-like designs. She also loves to travel, and is looking forward to a cruise to Hawaii and Tahiti next spring.
In the Butterfly Garden, Maggie helps take care of watering, trimming and transplanting plant species that attract a wide range of Lepidoptera, from the Florida state butterfly, the Zebra Longwing, to the gorgeous Atala and various other species. Maggie has also spent many hours helping to dig out the invasive plants along the Nature Trail.
"My fellow teammates on the Green Team are so dedicated – they'll do anything that's asked," says Maggie. "They brave the heat, the mosquitoes and poison ivy without a complaint. Their hard work inspires me, and I feel very fortunate to be associated with the team."
Maggie O'Brien Snapshot
Born in: Akron, OH
Widely travelled: Thailand, Alaska, Caribbean, Europe
Top 5 authors: Patrick Smith (A Land Remembered), Brad Meltzer, Dan Brown, Stuart Woods, John Grisham
Beloved blooms: Orchids
Best eats: Ocean Grill in Vero Beach, any Ale House
Thumbs Up to: McKee Botanical Garden, Vero Beach, and Tropical Ranch Botanical Gardens, Stuart