Liz Grossman Joins the New Event Team
With the opening of the new Ocean EcoCenter, Florida Oceanographic Society is organizing a new volunteer team to make sure guests feel welcome and taken care of at events. Self-described "irregular volunteer" Liz Grossman stepped up to the plate. Since Liz and her spouse Marnell McNamara joined Florida Oceanographic Society's volunteer family in 2016, she's given her time on oyster and seagrass restoration as well as beach and roadway cleanups. She's also been part of the relay team for the Treasure Coast Marathon.
"We are big fans of Florida Oceanographic Society's mission of education, research and advocacy," says Liz. "I'm happy to support it whenever and however I can. One of the ways I've been able to do that is by organizing monthly beach cleanups with neighbors on Hutchinson Island." Liz is president of her HOA, and vice president for the Indian River Plantation POA.
The various volunteer roles Liz has played fit well with her consulting work. She retired early in 2011 from her career in credit risk management on Wall Street, ending as a senior credit officer at a major bank. As Liz notes, about three weeks after she retired all the house projects were finished and she was ready for a new challenge. She now consults for regional banks and utilities as well as doing corporate training in financial analysis and credit risk management.
In her free time Liz enjoys biking around the area and hiking. She and Marnell took memorable cruises to Cuba and Alaska before the pandemic. They spent part of this past summer touring Asheville and hiking in North Carolina.
Liz says her most interesting role so far has been oyster bag deployment. "We had helped with oyster bagging so participating in the deployment allowed us to see the whole process come together," she explains. "It's all fun. I have felt so welcomed and so valued as a volunteer - whatever I have put into Florida Oceanographic Society I have received back tenfold."
Liz Grossman Snapshot
Hometown: Syracuse, NY
Alma maters: State University of New York-Binghamton, and Lubin School of Business at Pace University
Good eats: Bolly Twist, Café Boonma
Best hikes: Hudson Valley, NY (previous home)
Books & TV: American Dirt by Jeanine Cummins, streaming series Bosch and Call the Midwife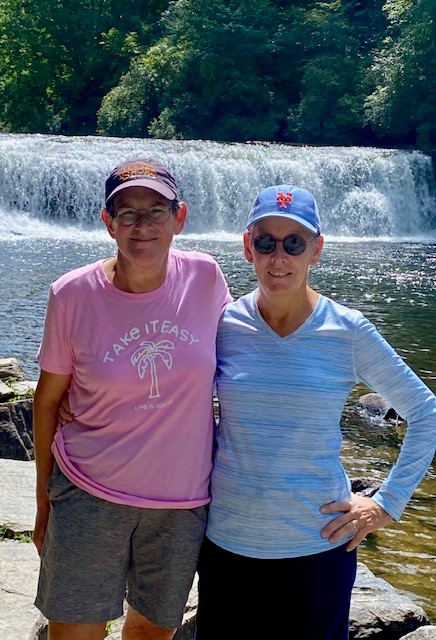 Liz Grossman (pictured left)