Get to Know Florida Oceanographic's Summer Research Interns!
This summer, four college students are interning with the Research Department to study seagrass, mangroves, and oysters! The interns began in June and are staying through mid-August to complete mini research projects under staff scientist supervision. They gain valuable experience in collaboration, experimental design, data collection, and dissemination of results, and then share and document their findings in a fifteen minute presentation to an audience. Get to know our interns and the work they have done at Florida Oceanographic this summer!
Alyvia Martinez, an Oyster Intern, took on a project that examines the temporal changes that take place to our plastic-free, alternative reef modules. She monitors the modules and identifies species including worms, crabs, and snails. "Being outside and close to the water" and "seeing sea turtles, stingrays, and sharks" are her favorite parts of the internship! Alyvia is entering her sophomore year and while she is unsure of exactly which marine biology career path to take, she knows that she loves research, learning new information, sharing knowledge with others, and gaining hands-on experience. This internship allows her to expand her knowledge in the importance of the creatures that live in Florida waterways and species identification.
Alyvia's Snapshot
College: Albion College in Michigan
Fun Fact: She knows the first 50 digits of Pi!
Hobbies: Competitive swimming

Caroline Root, a Mangrove Intern, monitors the growth of three species of mangroves when grown in conjunction with Sargassum spp. Her project is aimed at understanding the implications of Sargassum overabundance in our coastal ecosystems. She collects Sargassum that washes up on local beaches and researches how using Sargassum as a fertilizer affects the growth of mangrove seedlings. This information gives an indicator of how Sargassum levels affect mangrove growth in the real word. "In the future, I plan on going to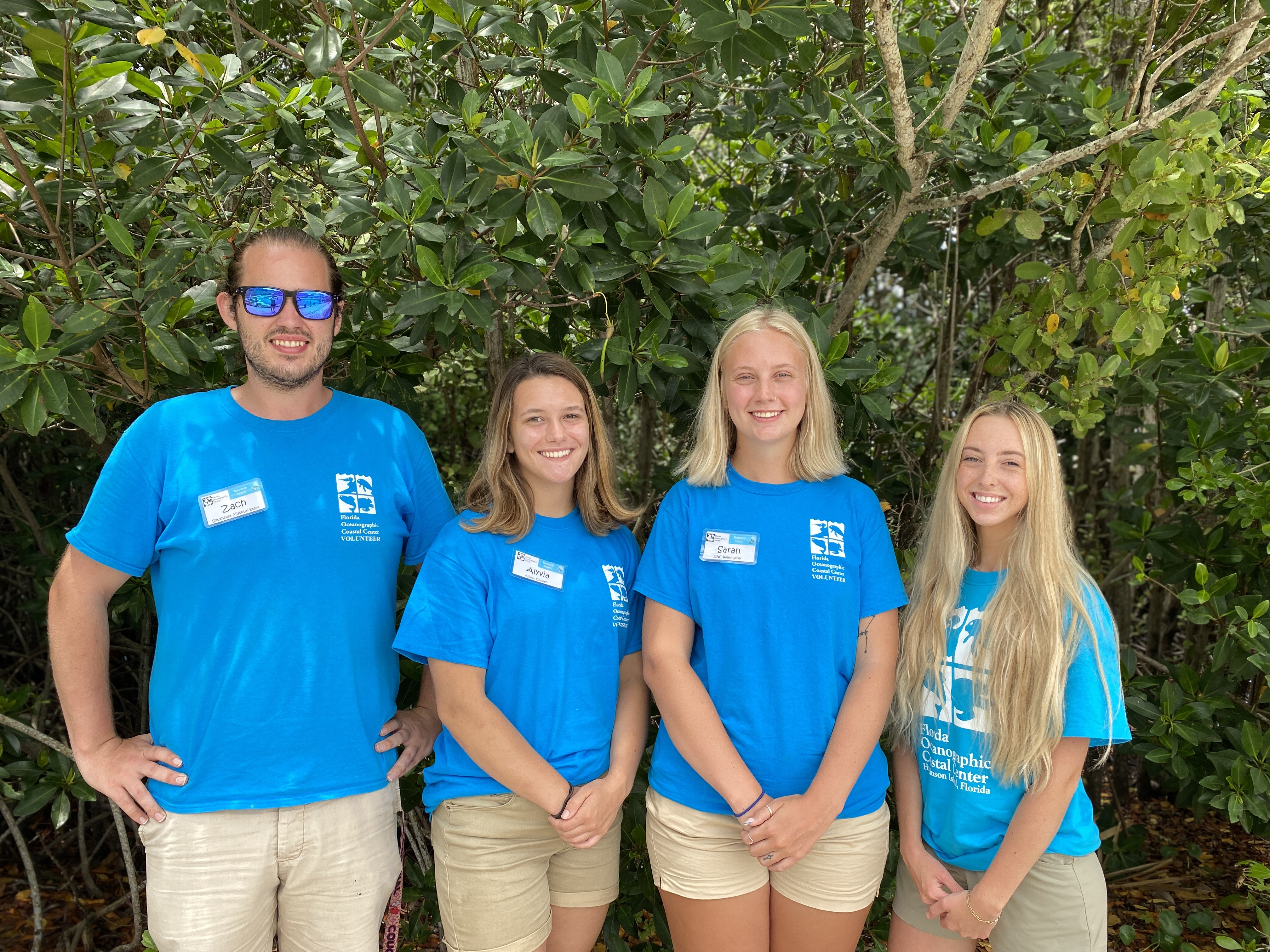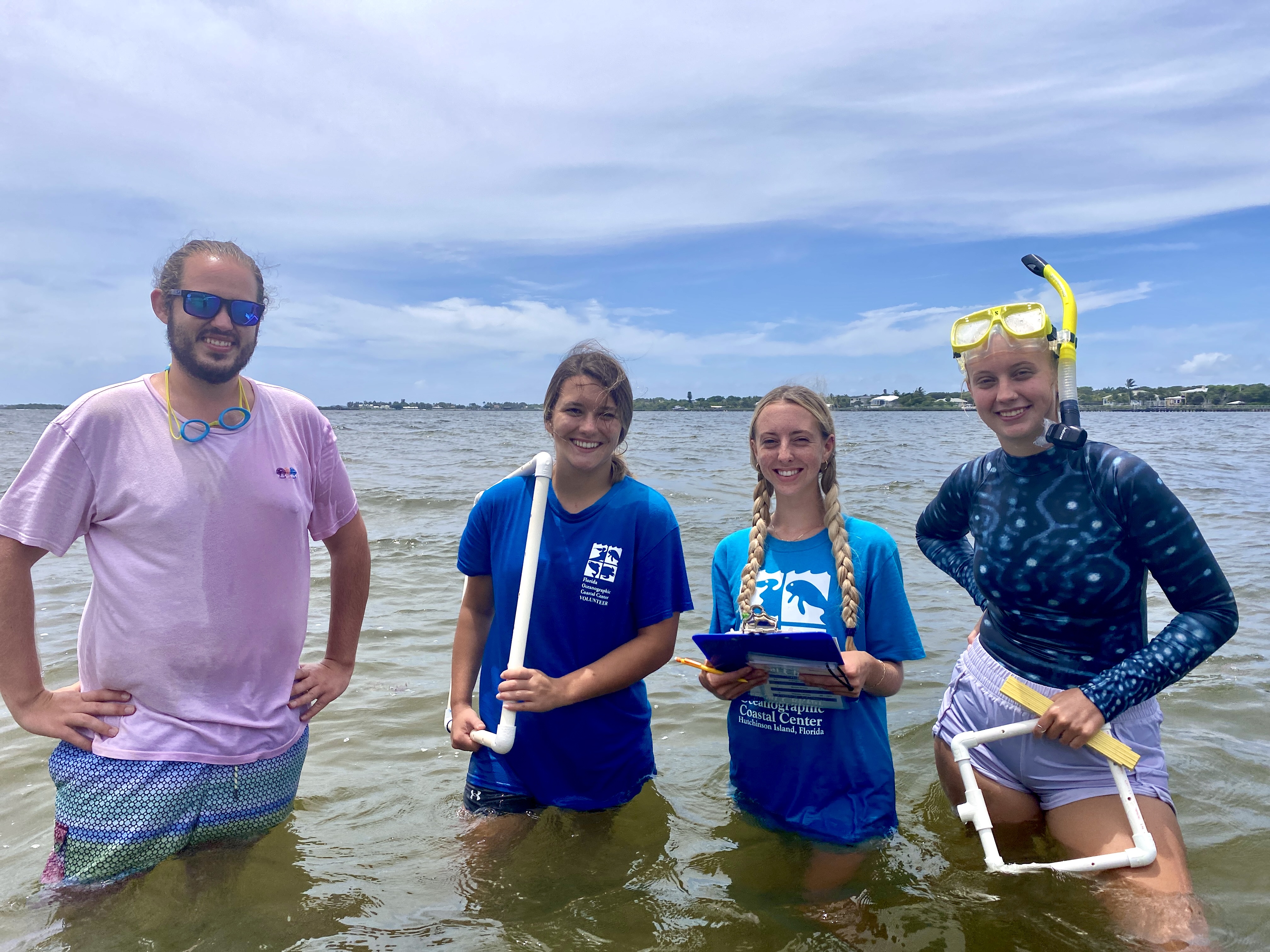 graduate school and working in a scientific lab," says Caroline. She has a specific interest in marine microbiology and is gaining experience in scientific method application, laboratory work, and networking through this internship.
Caroline's Snapshot
College: Avila University in Missouri
Fun Fact: She is a twin!
Hobbies: Hiking, walking, spending time at the beach, cooking, reading scientific literature, learning about botany and animal science, and spending time with loved ones.
Sarah Harris, a Seagrass Intern, undertook a research project associated with the ongoing seagrass and clam mesocosm study, assessing the health of Halodule wrightii seagrass grown in conjunction with Mercenaria mercenaria clams under varying levels of light stress. She assists with seagrass nursey and mesocosm maintenance and is responsible for monthly seagrass data collection. Sarah is majoring in marine biology and enters her senior year this fall. Marine biology has been her dream career since she was little and she visited Florida Oceanographic as a child! Her future goals include conducting her own research and using that research to impact environmental policy. "This opportunity [internship] is too good to be true," exclaims Sarah. She enjoys being surrounded by people that share her passions. "The ocean is so important," says Sarah, "we take care of it because it takes care of us."
Sarah's Snapshot
College: University of North Carolina Wilmington
Fun Facts: She has swum with sharks 6 times, the first experience being when she was just 9 years old. At age 7, her favorite movie was Jaws.
Hobbies: Yoga (She minors in Yoga Studies)
Zachary Philips, an Oyster Intern, took on a project aimed at assessing seasonal survivability of oysters recruiting to the St. Lucie Estuary and Indian River Lagoon. He uses concrete modules to standardize the data and assess how water quality influences oyster recruitment and growth. Zachary graduates after concluding this internship and hopes to study mollusks and their symbiotic relationships in his future career. Through this internship, he is learning the importance of oysters to the environment and how they provide habitats for small prey. His passion for marine biology began as a kid, when he played in tide pools and creeks near Monterey Bay in California. He appreciates the positive work environment at Florida Oceanographic, saying "everyone is really friendly!"
Zachary's Snapshot:
College: Southeast Missouri State University
Fun Fact: He traveled across the nation as a professional RC racer between the ages of 14 and 23.
Hobbies: Frisbee golf and finding little critters on the beach
Want to intern with Florida Oceanographic?
Internship applications for Summer 2022 open May 2022

HERE