Florida Oceanographic Society Volunteers and Staff Provide Critical Water Quality Data for 20 Years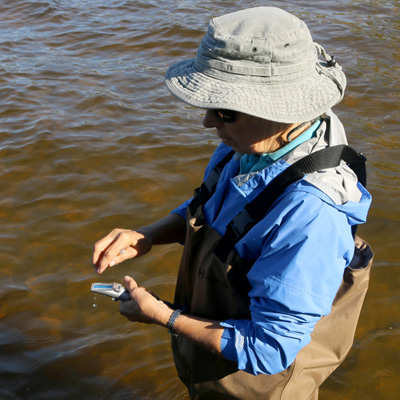 If you've seen the weekly St. Lucie River Water Quality Report in your local newspaper, you've had a glimpse at one of Florida Oceanographic Society's longest-running research projects. Our Water Quality Monitoring Program is 20 years old this year, and its value to ecosystem stewardship has never been greater.
"The Rivers Coalition asked us to start monitoring water quality when conditions became really bad after large releases of Lake Okeechobee water in 1998," says Research Associate Dr. Pam Hopkins, who leads the program. "We began that year using citizen science protocols also used by the Marine Resources Council. Since then, our equipment and protocols have remained consistent. We've expanded the area of the river we monitor so we have good snapshot of what's going on, and our volunteer network has grown."
Testing 5 Parameters for Ecosystem Health
Each week, about three dozen volunteers take water samples from 30 sites. For some, their designated site is right off their dock in the St. Lucie River. Volunteers test it for five parameters indicative of ecosystem health: temperature, salinity, dissolved oxygen, pH, and water clarity. They upload their test results to an online database, which Dr. Hopkins can access and use to create the weekly water quality report. With the ongoing discharges from Lake Okeechobee this past summer, water quality in the St. Lucie has consistently been rated as poor (D), and in some cases, destructive (F).
"The dedication of our volunteers is a huge advantage for our program," explains Pam. "High-tech equipment for water quality monitoring is available, but it's expensive to run, and when the funding runs out, the monitoring stops. Our network of volunteers has consistently delivered data for two decades."
Dr. Dave Carlson Monitors Near the St Lucie River's C-24 Canal
Veterinarian Dave Carlson joined the network of water testing volunteers after seeing the tremendous deterioration in water quality. "I live on the North Fork near the C-24 canal, which dumps both urban and agricultural run-off into the St. Lucie," says Dave. "The salinity level of my site, which is brackish water, should be about 15 ppt (parts per thousand), and it's been at zero for months. Oysters and seagrasses can't survive that, and without them, there's no habitat."
"When I bought my house in 2002 we had a large rookery north of my dock," he adds. "It vanished when the fish population could not support the nesting."
Dave fits in water testing, oyster shell bagging, and participation in Florida Oceanographic Society community events around his veterinary work. After seeing first-hand the negative health impacts of the water crisis on local pets, Dave has become a passionate advocate for better water stewardship with his expanding personal network of friends, colleagues and water quality experts.
"Water quality is not just an environmental issue – it's also an economic issue and a public health issue for people and animals," notes Dave. "By volunteering with the water quality program, I can make a contribution to the database every week of the year. We need this data to be effective catalysts for change."
Volunteer Paul Laura Monitors the Mosquito Impoundments
Paul Laura is monitoring the mosquito impoundment on the northeast side of the Jensen Beach causeway, as well as 13 stations in the impoundment behind Florida Oceanographic Coastal Center. He was in the volunteer spotlight in December 2016 for his Hooked mussel work with the Florida Oceanographic Oyster Restoration (FLOOR) project. A retired business manager with undergrad and advanced degrees in science, Paul is following the same testing protocols as volunteers monitoring the St. Lucie. With the addition of his monitoring station in the Indian River Lagoon (IRL), he gives about 20 hours each month to the Society's  water testing program.
"The waters I'm testing are highly affected by the tides," notes Paul. "Salinity levels are pretty consistent, but the dissolved oxygen levels really vary, especially when the tide is out. This overabundance of blue-green algae is lowering the dissolved oxygen below what fish can tolerate, and that's when we see fish die off."
"We're sharing our data with the Martin County Mosquito Control Manager, Public Works Dept, Kylie Zirbel to help inform her decision-making about raising and lowering the impoundment water levels, which is what controls mosquito populations. It's a great collaboration."
"I'm very glad Florida Oceanographic is spearheading all of this work," adds Paul. "It will become even more important when Florida gains a political situation more favorable for environmental stewardship. As my email signature says, 'I vote water.'"
The Program's Impact Grows
By posting the weekly water quality report on the Florida Oceanographic website and sharing it with the local media, Pam makes the data widely available to the public. She's shared the data with other scientists studying various aspects of the IRL ecosystem, as well as students doing projects for their colleges and high schools.  Florida Oceanographic uses the reports as a data point for their decision-making on where to focus their FLOOR work.  And certainly, Executive Director Mark Perry integrates the data in the Society's advocacy efforts.
What will the next 20 years bring? "In the last few years, we've added sites and expanded our test area to include virtually the entire St. Lucie Estuary and IRL in Martin County. A handful of other organizations use a similar protocol to monitor much of the remaining IRL." says Pam. "Eventually Marine Resources Council will pool the data from these sources to create an annual report card for the IRL.  With the history and longevity of our work, Florida Oceanographic's water quality testing program will play a significant role in presenting a data-driven look at the local ecosystem."