From the Field: Oyster Stringers
As part of our monthly monitoring efforts, Florida Oceanographic's research scientist Dr. Loraé Simpson and technician Samantha Smith, collect oyster spat "stringers." Stringers consist of seven clean, dried oyster shells hanging on steel wire suspended from a PVC crossbar. These stringers are deployed at six oyster restoration sites throughout the St. Lucie Estuary and Indian River Lagoon, where they remain for 28 days allowing larval oysters to settle and begin growing. At the conclusion of the 28-day period, research staff quantifies the numbers of spat settled on each shell. This helps them understand how some of Florida Oceanographic's restored oyster reefs are performing under different environmental conditions. Water quality parameters are also taken at each site during collection.
In line with "spooky season," the researchers found a few creepy-crawlers on several stringer shells this month.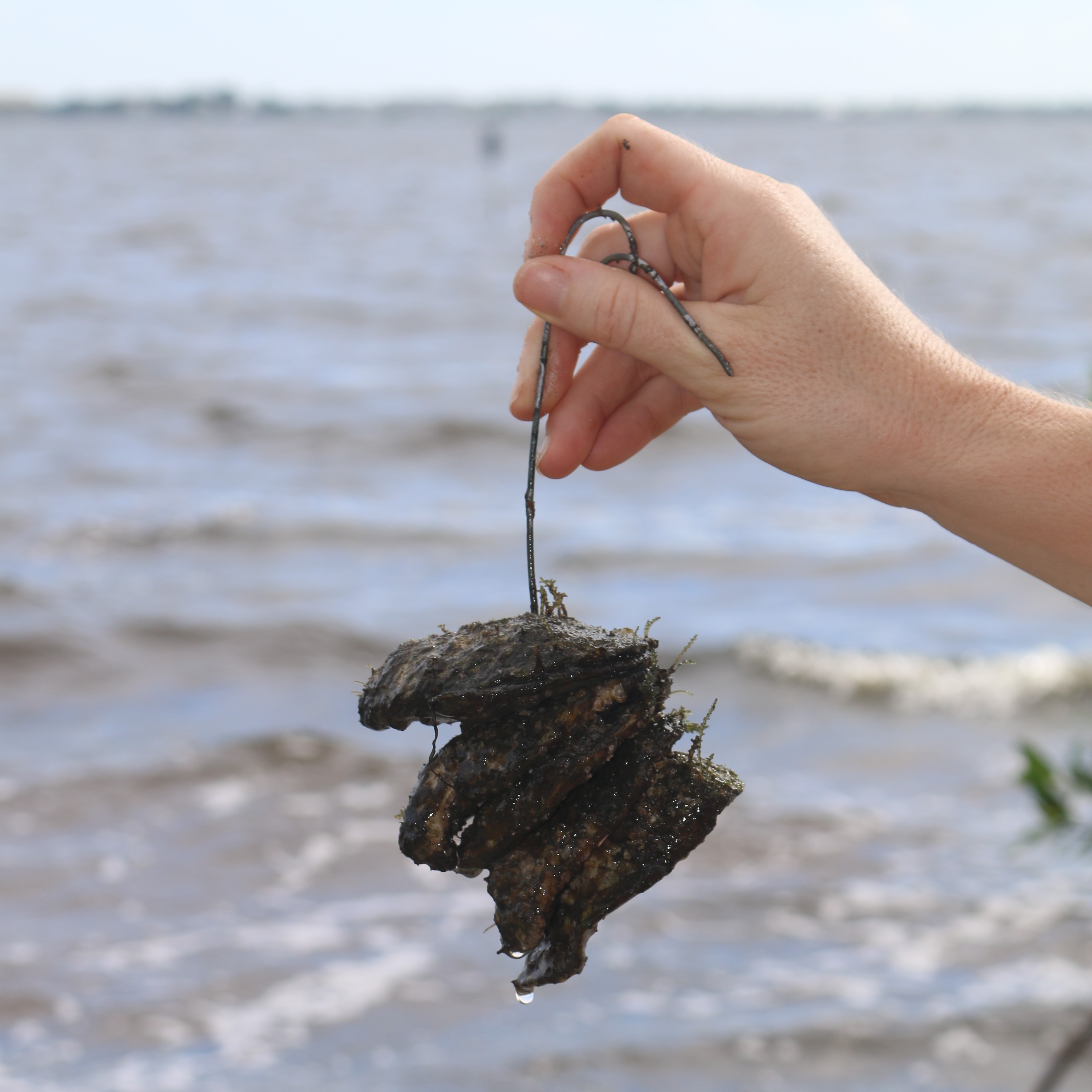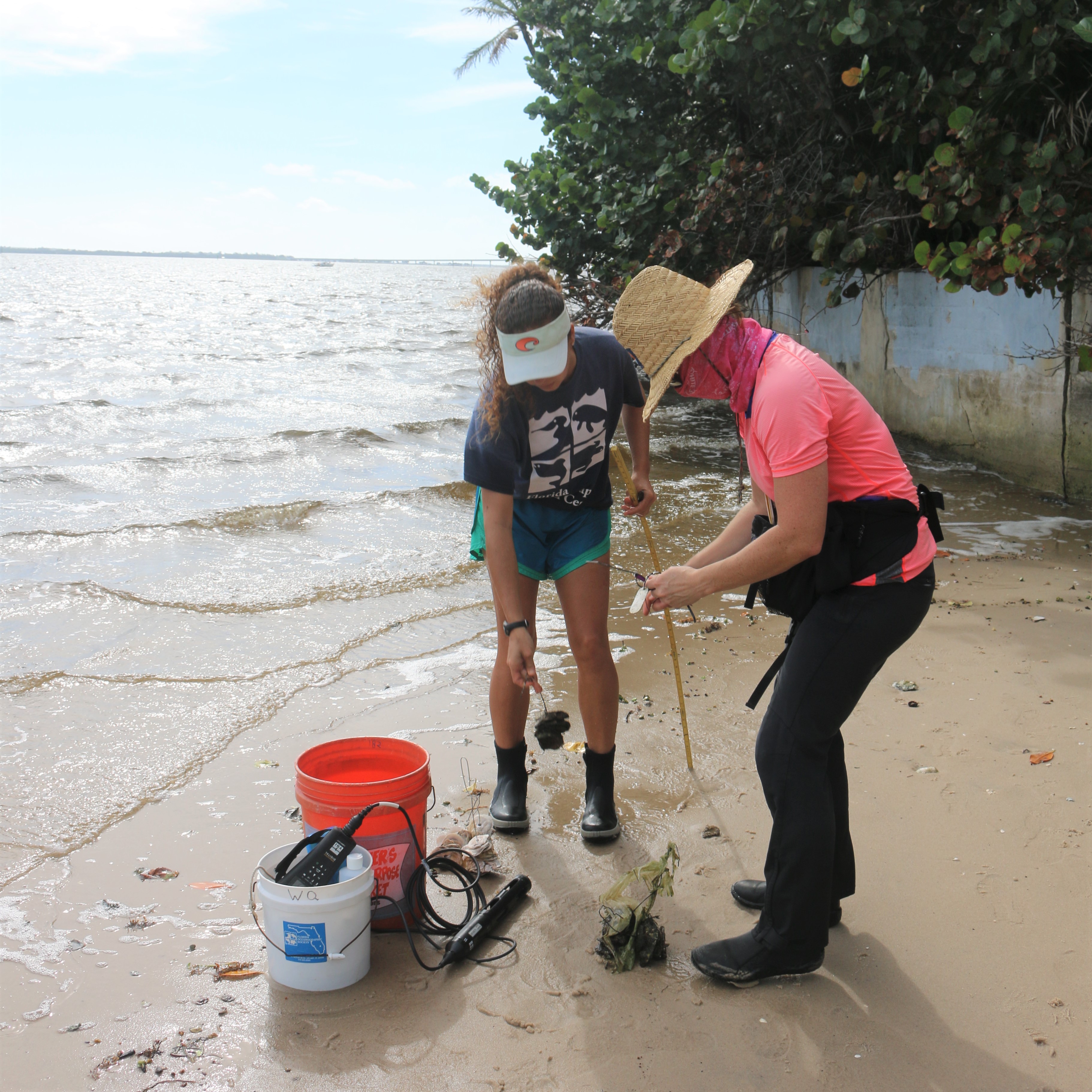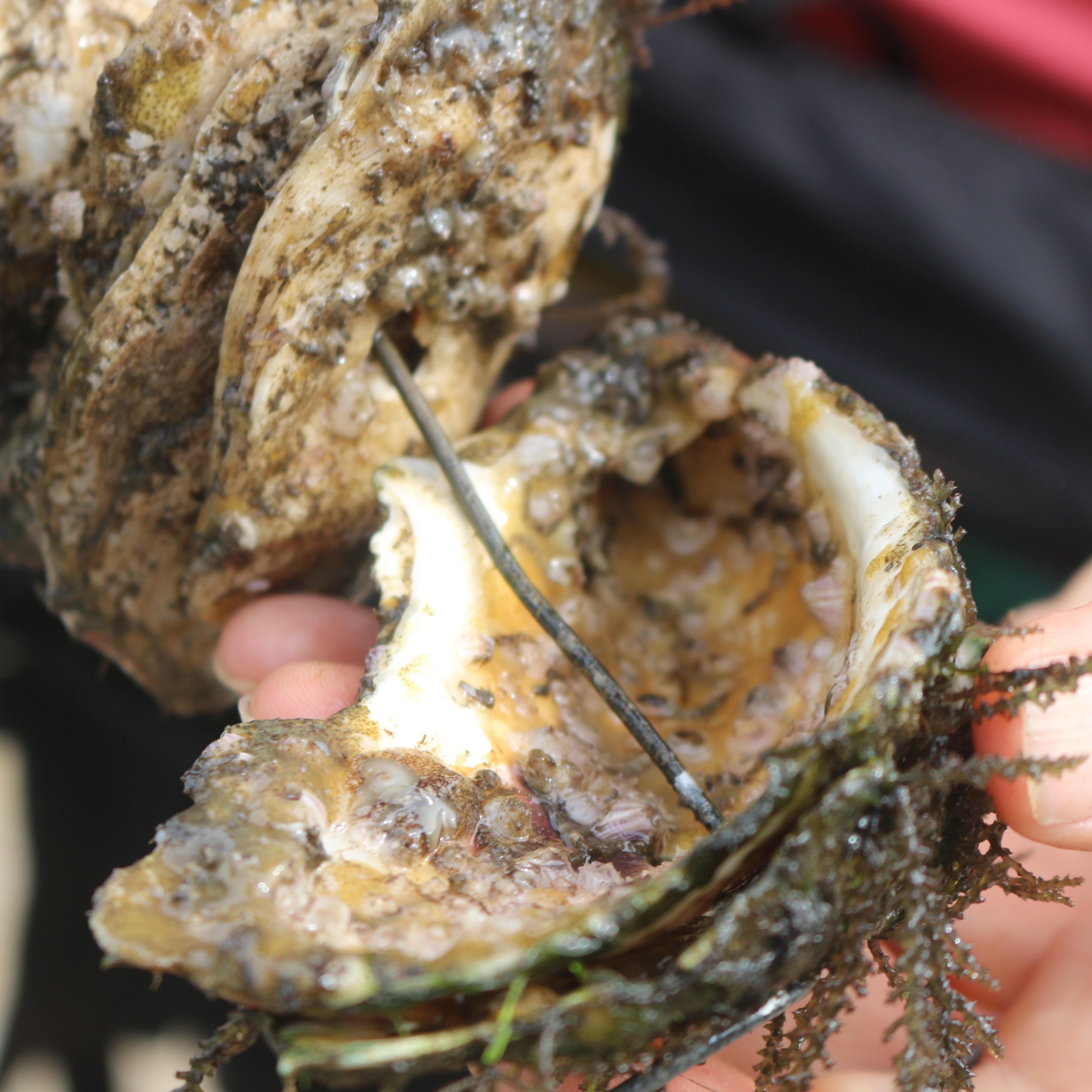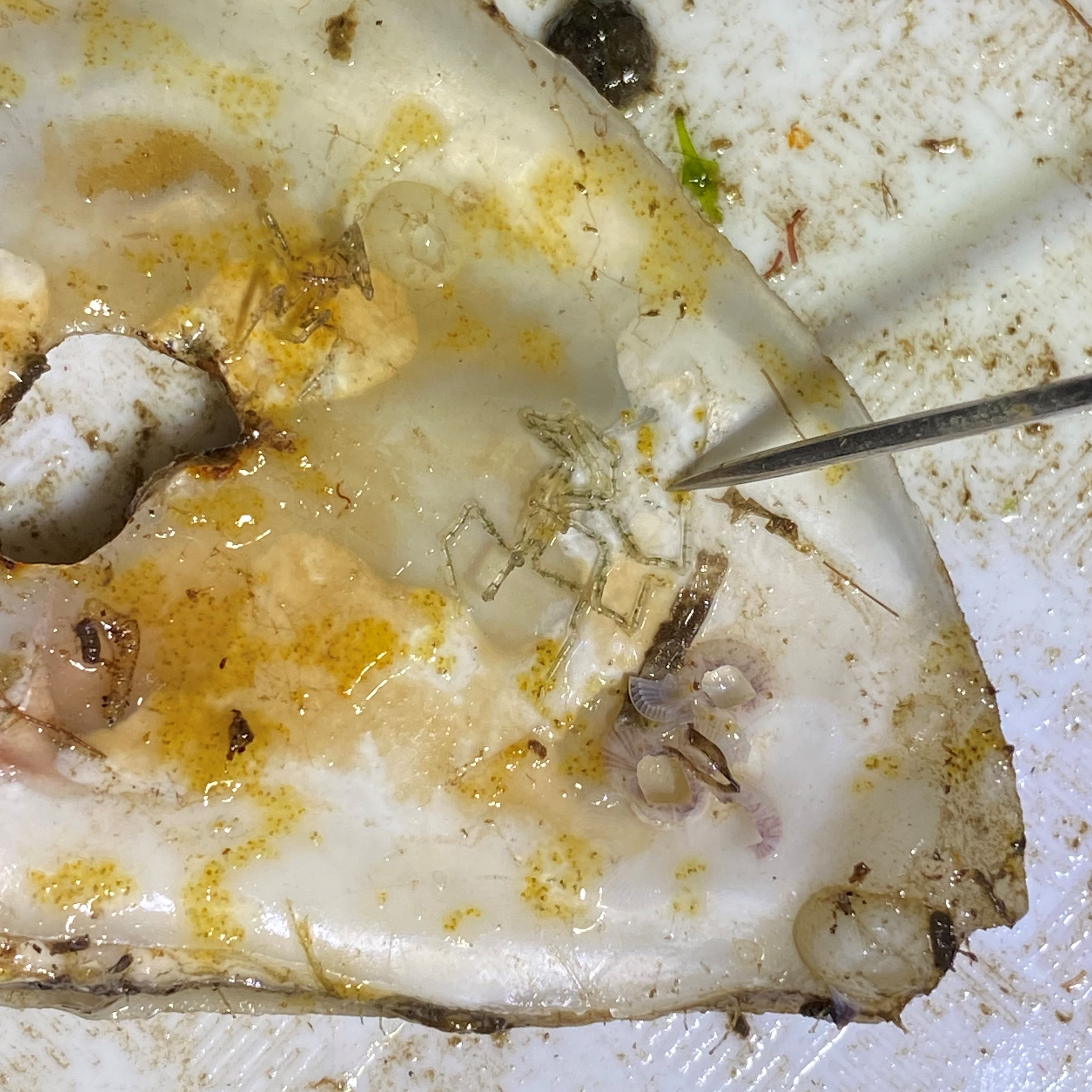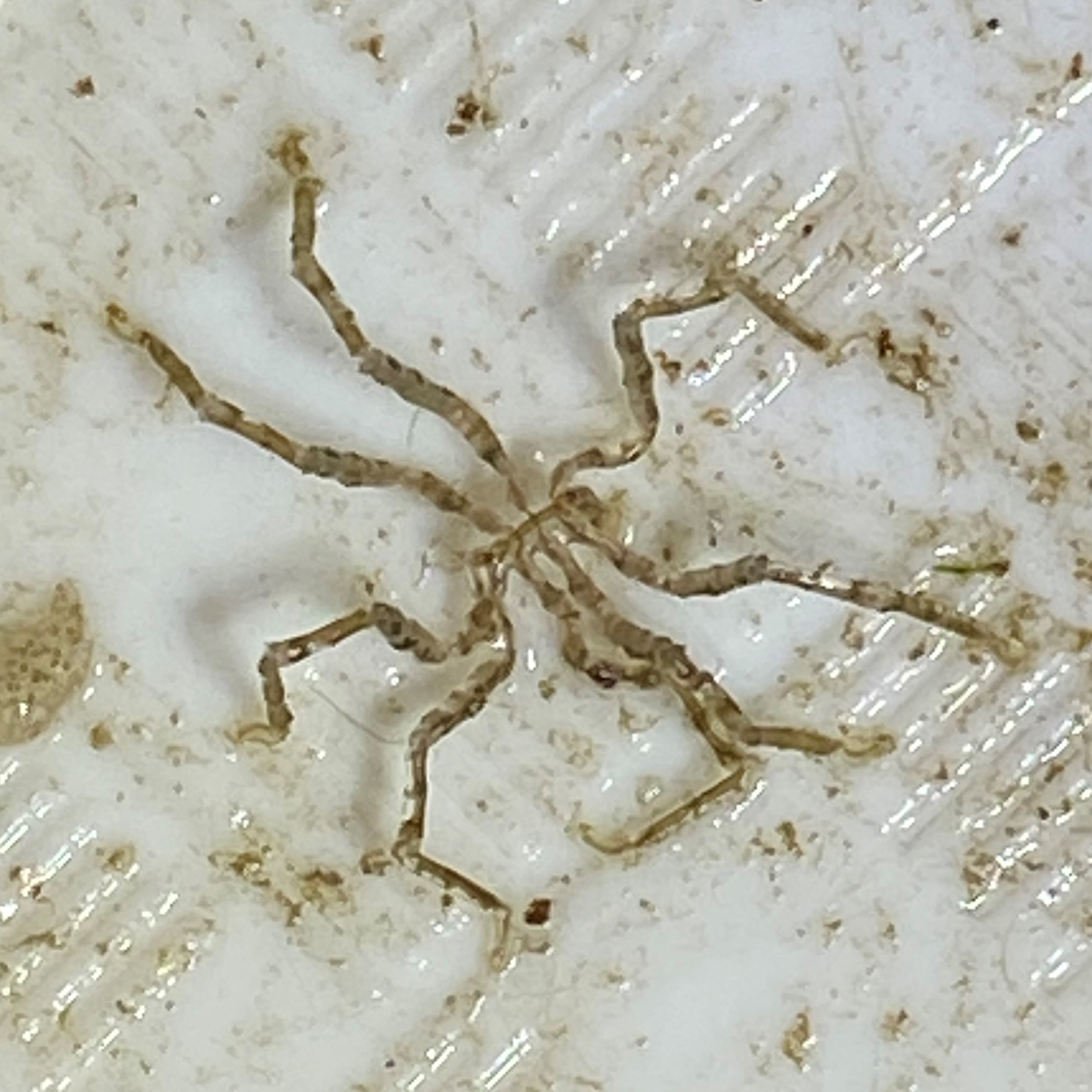 Several pycnogonids, or sea spiders, were observed on shells collected at three of the six restoration sites. Don't worry, these "spiders" don't bite – and often remain along reefs and scattered throughout estuary and marine sediments looking for prey. As arthropods, they have segmented bodies, and in an almost zombie-like fashion, they do not possess internal organs for gas exchange or for the removal of any internal waste. Instead, sea spiders use enzymes to facilitate digestion, and have sufficient "body-volume to surface area" ratios for supplying oxygen to their systems. Sea spiders consume bryozoans, hydroids, and other polychaetes organisms and reproduce sexually. There are over 1,300 known varieties of pycnogonid sea spider throughout the world's oceans, and as classification continues, that number is expected to grow (Myers, 2001).
CLICK HERE to see the photo article, published on 10/8/20 in TCPalm, of Dr. Loraé  Simpson and Samantha Smith monitoring oyster spat recruitment at one of Florida Oceanographic's restoration sites in the Indian River Lagoon.
Written by Samantha Smith,  Research Technician at Florida Oceanographic Society. She can be reached at ssmith@floridaocean.org.
Sources: Myers, P. 2001. "Pycnogonida" (On-line), Animal Diversity Web. Accessed October 27, 2020 at https://animaldiversity.org/accounts/Pycnogonida/