Caroline Wattles Gets the Community Into IRL Restoration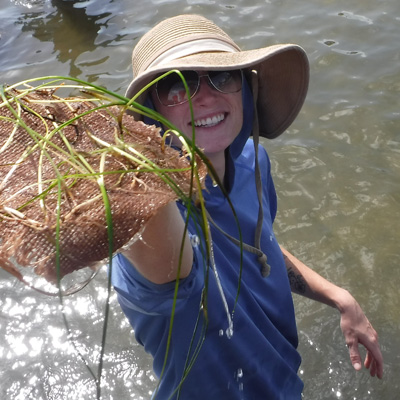 Growing up in Stuart has given Florida Oceanographic Society (FOS) volunteer Caroline Wattles a unique perspective on environmental change in the Indian River Lagoon (IRL). The estuary where she used to play is in deep trouble, and she's taking an active role in saving it. In the last year, Caroline has given more than 300 volunteer hours with FOS's Research department. She works on mangrove and seagrass restoration projects that get the Martin County community involved.  Staff members note that no task is too dirty or too gross for Caroline — she tackles it all with enthusiasm.
"After being away at college for a few years, I came back to a lot of change," says Caroline. "It feels good to be helping rebuild the environment I experienced as a kid."
Caroline first started volunteering with her friend Abby on an FOS project testing the water for microplastics – plastic particles from sources like synthetic clothing and face and hair products that are so small they can pass through water filtration systems. She's expanded her volunteer service with mangrove and seagrass restoration. Caroline works with the Florida Oceanographic Society's Research department, which provides opportunities for people in the community to get involved in citizen science projects that help restore habitats in the IRL. They also work with schools and camps so kids can take part in restoration activities while learning about the local environment. Lately, Caroline's been teaching kids how to make mangrove planters that can be incorporated in oyster reef restoration.
Over the summer, Caroline has been at FOS for 20 to 30 hours each week. She hopes to continue with some of those hours this fall when her classes resume at Indian River State College. Caroline's future career plans involve integrating landscape architecture and ecological restoration. She's gained valuable insight into restoration and sustainable human development in her work with FOS's Research department.
"I really like working with the Research department," says Caroline. "The amount of resourcefulness they have is incredible. Despite the complexity of administration and of gaining funding, they push on and never give up. It's great to see their hard work make an impact."
Caroline Wattles Snapshot:
Generation: Millennial
Favorite podcasters: NPR, The Energy Gang
Top tunes: Justice, a French electronic music duo
Hobbies: Gardening, art, animal training