Bill Gould Walks and Talks Environmental Stewardship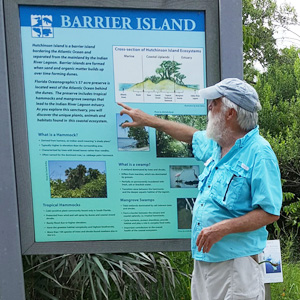 Bill Gould walks his talk. As a Florida Oceanographic volunteer Bill has given nearly 2,200 hours over the last eight years as a nature trail guide and water quality tester, and his active participation in environmental stewardship doesn't end there. He is also a Bald Eagle monitor for the National Audubon Society. He keeps tabs on one of the nearly 10 nests in the DuPuis Wildlife and Environmental Area, a volunteer role that gives him a closer view of the Bald Eagle population in Florida.
Born in Maine, Bill worked as an air traffic controller in the U.S Air Force, and then for the FAA. He left the frenetic industry for a seven-month backpacking trip around Europe, and then pursued his love of cooking. He met Pat, his wife of 30 years, in the Florida Keys while working as a chef at Lime Tree Bay Café, and they moved to Stuart in 1988.
About nine years ago, Bill came to the Florida Oceanographic Coastal Center for a special event. After a trail walk guided by the legendary Poppa Joe, Bill knew what he wanted to do when he retired. "Walking in nature has always been something I've loved, and I saw an opportunity at the Coastal Center to share it with others," says Bill. "I really enjoy showing our visitors the real Florida away from the Mouse. And, I'm learning to recognize Florida's fish before they become fillets."    
Over the years Bill has also shared his love of native Florida plants with friends, neighbors and the Martin County community. As a Master Gardener, Bill participated in his neighborhood's program to remake yards with natural landscaping that's more beneficial to the environment. He began raising tropical plants for his own home, an endeavor he eventually expanded. For about six years, Bill was known as "the bromeliad guy" at Stuart's Green Market, where he encouraged people to plant native plants in their gardens and yards.
Bill has done a lot of hiking around the state, and at least once a week, he takes a seven-mile spin on the trails at Halpatiokee Regional Park near his home. He continues to share his love of Florida's flora and fauna with Coastal Center visitors on the Nature Trail as well.  "The Trail has something different to show us each day," notes Bill. "One time a bobcat wandered on the trail near me, and it let me follow along from the Indian encampment back to the trailhead. It's always an amazing experience."
Bill Gould Snapshot
Born in: Maine
Service to the Country: Air Force Veteran
Family paws: Cats Lucy & Milo
Nickname: The Bromeliad Guy at Stuart's Green Market
Weekly hike: Halpatiokee Regional Park