From Apprentice to Sea Turtle Scout
Congratulations to Florida Oceanographic Society volunteers Lisa Reed and Susan Boone for their recent graduation to sea turtle scout after training as apprentices for more than two years. Sea turtle scouts are an important part of our guided Nighttime Sea Turtle Walks, which give visitors a unique opportunity to see nesting loggerhead sea turtles. Florida Oceanographic Society has a special permit to conduct the walks, and sea turtle scout volunteers help ensure the rigorous procedures protecting sea turtles during the walks are met. On program nights in June and July, sea turtle scouts carefully comb the beaches of Hutchinson Island after dark to locate nesting loggerhead sea turtles and notify the staff leading the program.
"I spent the first few weeks in the classroom watching the visitor education program before I even stepped foot on the beach as an apprentice," says Lisa. "It's a very intense training program. As an apprentice and now as a scout, each night out there is different, and I learn something new every time."
"It's such a privilege to be out there observing sea turtles so closely in a process that's been eons in the making," adds Susan. "She's oblivious to us if we do our job well. It's a breathtaking, humbling experience."
Susan is a federally licensed tax practitioner who has been handling Florida Oceanographic Society's accounting for nearly 12 years. She heard about the need for sea turtle scout volunteers while in the office one day, and eagerly signed up.
She and her husband Eric met in the Coast Guard in Miami and married soon after. Susan left the Coast Guard after five years as a yeoman, and earned her business degree in accounting. Eric was career military, and the family moved every few years to a different part of the U.S. coastline. The Boones have a son who is an Air Force pilot in Charleston, South Carolina, and a daughter who is a security officer at the St. Lucie Nuclear Power Plant.
Susan loves to hike and backpack in mountains and forests. Since the Boones have settled in Jensen Beach for the past 16 years, Susan has satisfied her wanderlust by planning a few trips each year. Maine is a favorite annual destination, and Susan hopes to take the four-day hike on the Inca Trail to Peru's Machu Picchu sometime soon.
"Since the tax season extended into July this year, I've been sea turtle scouting one night a week," notes Susan. "I'm honored to be a small part of this incredible experience for our visitors each summer."
Lisa is also volunteering one night a week this summer. Many nights, she's not home until after 1:00am depending on what time they locate a nesting sea turtle and how long the entire process takes.  "It's a physical job," says Lisa. "We're walking three to four miles a night on wet sand, and crawling slowly on hands and knees to observe where the sea turtle is in the nesting process. We use night vision goggles because we can't use any light. If necessary, we're also knocking down sandcastles to remove barriers for the sea turtles, and cleaning up trash that could wash out to the sea or attract predators who might go after the sea turtle eggs. We need the beach dark, flat and clean."
Lisa moved from Massachusetts to Stuart about six years ago, and joined up with Florida Oceanographic Society through friends. About a year ago, she retired full-time from her 36-year career as executive vice president in the collegiate bookstore industry. Her husband Scott works at IBM, and the couple has three children and two grandsons. Lisa's newest career is being a full-time nanny for her nine-month-old grandson. She's also the president of her homeowners association, and volunteers for the Honda Classic PGA Golf Tournament in West Palm Beach.
Lisa loves living in one of the few places in the world where sea turtles nest. "I'm so proud to be part of the program for Florida Oceanographic Society," she states. "We are full-circle here, from being a forever home for four rehabilitated sea turtles to educating visitors about sea turtles and giving them the incredible experience to see turtle nesting. I've definitely become a huge sea turtle advocate."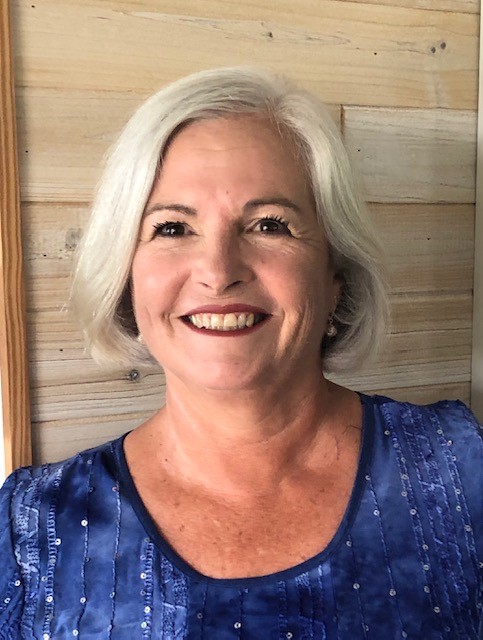 Lisa Reed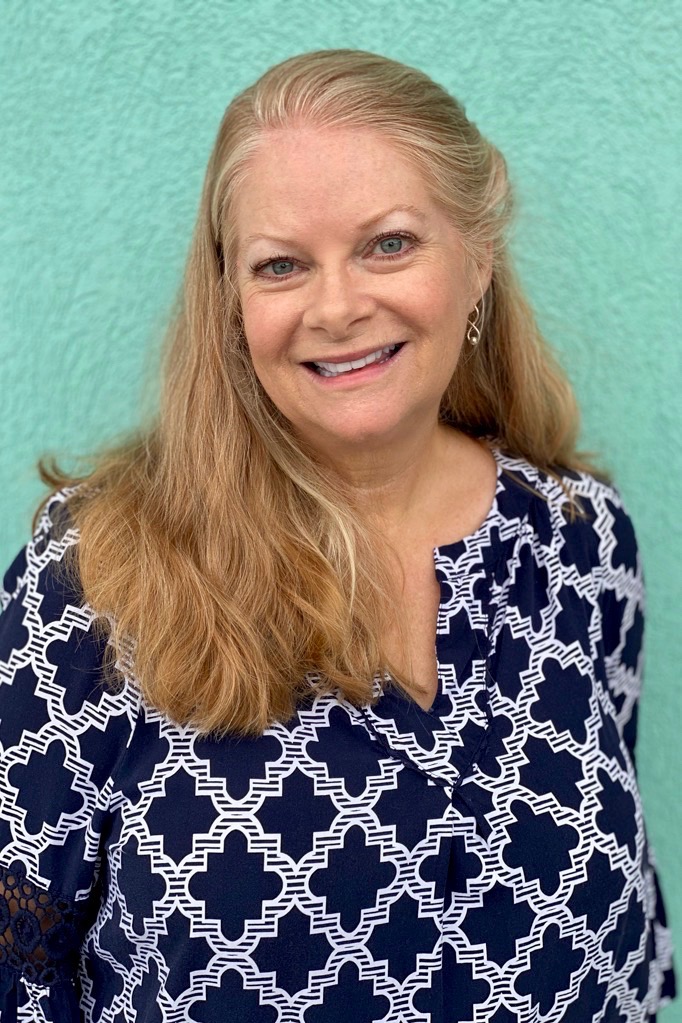 Susan Boone