We're Celebrating Our 55th Anniversary!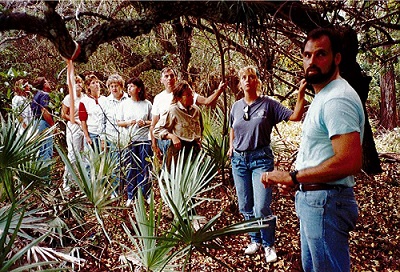 Florida Oceanographic Society has spent the past 5 decades committed to Florida's ecosystem and waterways. On July 20th we will celebrate 55 years of education, research, and advocacy. We are so proud of how far we've come with our research and conservation programs, and promoting awareness of our local waterways and the wildlife that calls them home.
Executive Director Mark Perry has guided Florida Oceanographic throughout the past 40+ years and notes that the organization has grown significantly since its establishment in 1964. What once began as a small group of 5 concerned local leaders conducting research in their free time has expanded into a conscious community dedicated to education, research, and advocacy.
"We have grown a lot over the years. We have a new facility and many more visitors and marine life. But we're really still going after the same thing – working to save Florida's waters for our community," Perry said.
Learning from the past
Perry sees the development of the current Coastal Center facility as the biggest change over the lifetime of Florida Oceanographic. Since the Coastal Center on Hutchinson Island opened to the public in 1994, we have a dedicated space to share our research and conservation efforts and educate the public on the issues affecting our estuaries and marine ecosystems. Our daily programming and interactive exhibits allow visitors to create a deeper connection with the nature we are striving to protect.
"At the Coastal Center and locally, we have been able to inspire our community and empower them to become environmental advocates," Perry said.
Additionally, we are grateful and excited that our Coastal Center is beside the Indian River Lagoon and St. Lucie River which has long been a key area for restoration. Our location allows us to have an impact in a highly sensitive area while advocating for these waters and environment.
And yet, although we have come very far, there is still more to do.
Looking to the future
Looking forward to the future, Perry notes that Florida Oceanographic will continue to focus on habitat restoration through our FLOOR and FOSTER programs which seek to reestablish and revitalize local oyster reefs and seagrass beds. These initiatives work to further bolster the health of our estuary and engage the support of citizen scientists, volunteers, and local organizations. 
Perry is also excited to continue rallying for clean freshwater moving south into the Everglades from Lake Okeechobee as opposed to being redirected through the St. Lucie River to the Indian River Lagoon. He believes this public and political pressure is important in protecting the integrity of our waterways and is necessary for our current habitat restoration work to be effective.
"My main future goal is to continue inspiring environmental stewardship and engaging our community to clean our waters," Perry said.
We are truly grateful for every member, volunteer, donor, visitor, and community benefactor who has helped us promote our mission and protect our waters. Thank you to everyone who has supported us during these past 55 years!